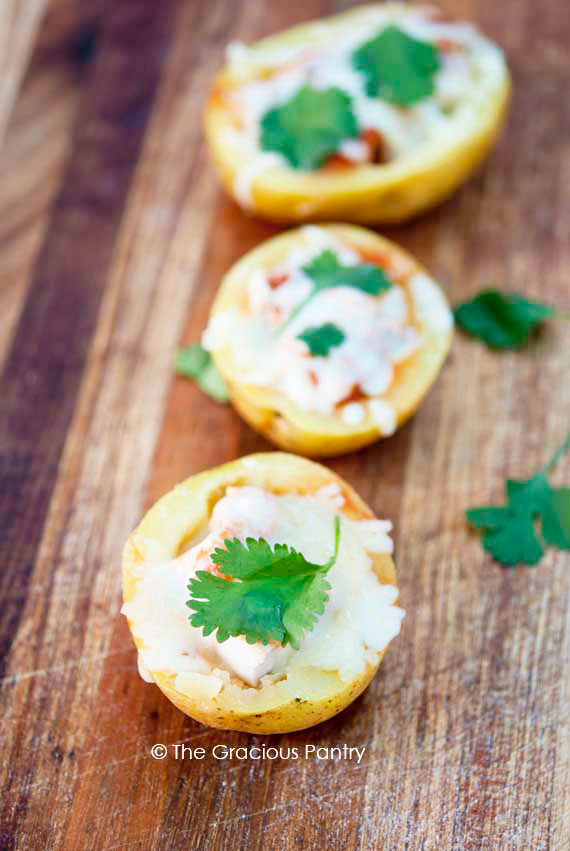 Potato skins are a staple in many American households, and they taste great just about any way you make them. But I remember quite clearly also having a tummy ache after eating them years ago. Not because of the type of food they were, but because of how processed and filled with garbage they were. So I figured I would come up with a much healthier, yet still delicious version. And you know what?
They turned out amazing!!! We loved these!
But before anybody looks at the recipe and scratches their heads, I will say that this recipe really requires no measurements. Make enough for one person, or fifty! The main idea is to get some of each of the filling ingredients into those skins. And if you really want to make it easy on yourself, cook some raw chicken breasts in a slow cooker for 4-6 hours with salsa poured over the top. It will shred easily and be moist and delicious and perfect for stuffing those skins!

Clean Eating Salsa Chicken Stuffed Potato Skins
Author:
Ingredients
Baked potatoes, cut in half with flesh scooped out (leave about a 1/4″ of flesh in the skins)
Cooked chicken breast cut into small, 1/2" cubes or shredded
Salsa (any clean variety will work)
Cheddar cheese, grated
Fresh cilantro for garnish (optional, but delicious!)
Instructions
Once you have your potato skins scooped out, simply fill them with diced chicken pieces.
Pour a little salsa over each one, top with cheese and either bake at 350 F. or cook them in the microwave until the cheese is melted.
Top with fresh cilantro and allow to cool a bit before serving. Those potatoes can really hold onto the heat!!