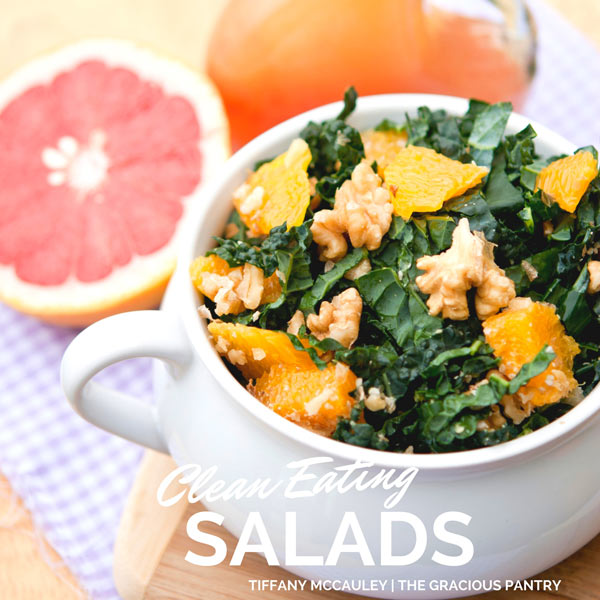 $5.00
I originally began creating this ebook for my Clean Eating Salad Challenge. But I soon realized that it's simply a great collection of recipes to have at your finger tips. Few things can deliver nutrients the way a salad can, and if they are tasty to boot…. well… you won't find me complaining!
This collection is all of the salad recipes on my blog to date. You can read the table of contents below to get an idea of what recipes are included. I hope you'll enjoy them!
All eBook sales are final. File delivered via email in pdf. format.
Included in this ebook are the following recipes:
FRUIT SALADS
Maple Strawberry Salad
Nectarine Pecan Fruit Salad
Waldorf Salad
Winter Harvest Fruit Salad
GREEN SALADS
Cobb Salad
Spinach Summer Salad
Summer Solstice Salad
Strawberry Spinach Salad
Mesclun Salad
Raw Asian Broccoli Salad
Dr. Wilbur Salad
Spinach Salad with Pesto Dressing
Garden Salad
Citrus Celery Salad
Endive Salad
MEAT & SEAFOOD SALADS
Traditional Tuna Salad
Exceptionally Filling Chicken & Vegetable Salad
Mandarin Orange Chicken Salad with Dried Cranberries
Chicken Endive Salad
Chicken Salad
Tuna Salad
Taco Salad
Chicken Apple Salad
Taco Salad (second edition)
Skillet Taco Salad
QUINOA SALADS
Green Quinoa Salad
Vegetarian Quinoa & Avocado Salad
Vegan Cilantro Quinoa Salad
Apricot Ginger Quinoa with Cashews
Black Bean Quinoa Salad
PASTA SALADS
Black Bean Pasta Salad
Vegetable Basil Macaroni Salad
Citrus Orzo
Greek Couscous Salad
Raw Zucchini Couscous with Lime & Olives
SIDE SALADS
Coleslaw
Sweet Carrot & Raisin Salad
Shirazi Salad
Mandarin Olive Salad
Cranberry Green Bean Salad
Avocado Cashew Salad
Greek Cucumber Salad
Corn Salad
SALAD DRESSINGS
Pomegranate Vinaigrette
Italian Dressing
Garlic Peanut Dressing
Raspberry Vinaigrette
Strawberry Vinaigrette
Balsamic Garlic Cashew Dressing
Honey Lime Vinaigrette
Honey Mustard Dressing
Tarragon Dijon Dressing
Ranch Dressing
Balsamic Vinaigrette
SaveSaveSaveSaveSaveSave