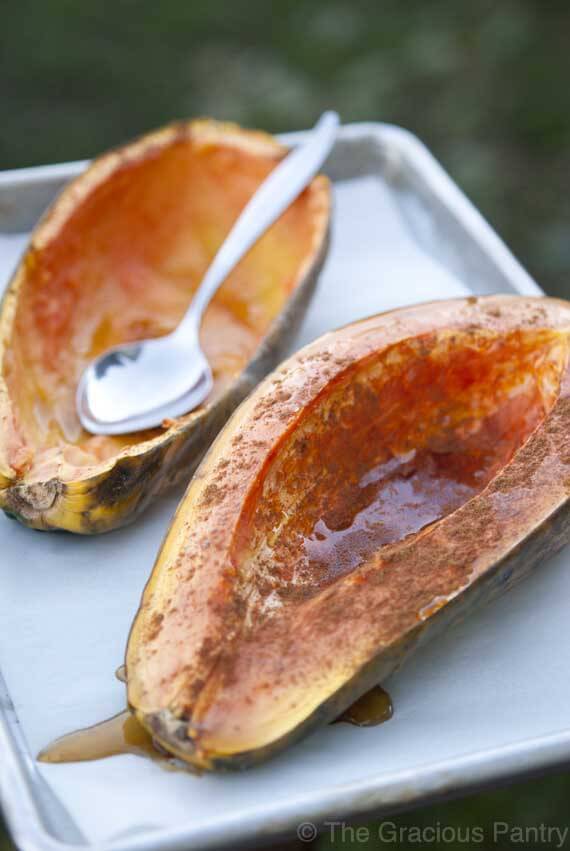 Papayas are a wonderful fruit. It took me a while to get used to their mild flavor, but now I love them dearly. They make an excellent addition to breakfast or even a light dessert, and pair well with many foods as a side dish. They are very high in vitamin C and vitamin A and give you a nice dose of potassium and fiber as well.
For this recipe, I used a very large Mexican Papaya. These are not the same as the smaller yellow variety. I find them to be more flavorful and sweet.
This delicious recipe is great as part of a balanced breakfast or a simple, clean dessert. Either way, if you love papaya, you'll love this recipe.
YOU MIGHT ALSO ENJOY:

Clean Eating Roasted Maple Papaya
(Makes 4 servings)
Ingredients:
1 large papaya
2 teaspoons ground cinnamon
Maple syrup for topping
Directions:
Cut your papaya in half.

Clean out the seeds with a spoon.

Sprinkle with cinnamon.

Bake at 350 for about about 15 to 20 minutes, or until the papaya is hot all the way through.
Allow to cool slightly and serve topped with maple syrup.