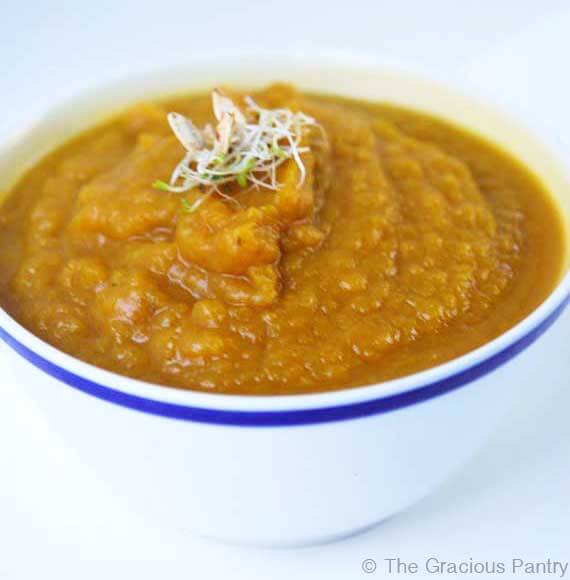 This is one of those pots of soup that your great-grandmother used to cook, standing over an old fashion hot stove in an old fashion kitchen, with amazing aromas wafting around her.
This pot of soup takes a bit of patience and time to cook.
This pot of soup takes a lot of love and a lot of prep work.
This pot of soup takes all your self-control not to eat before it's cooled enough to put in your mouth.
This pot of soup…. is scrumptious!
YOU MIGHT ALSO ENJOY:
Clean Eating Roasted Garlic Pumpkin Soup
(Makes approximately 16 cups)
Soup Ingredients:

9 cups fresh sugar pumpkin (about 2 pumpkins)
4 cup chicken or vegetable broth
2 stalks celery
1 leek
3 apples
1 small red onion
4 shallots
2 heads roasted garlic (use 1 head if you prefer a milder garlic flavor)
1 teaspoon celery salt
1 teaspoon pumpkin spice
1/2 teaspoon curry
1/2 teaspoon cumin
1/2 teaspoon olive oil for cooking onions
Salt and pepper to taste

Pumpkin Seeds Ingredients:

1 tablespoon olive oil
2 teaspoons garlic powder
1 teaspoon pumpkin spice
Pumpkin seeds
Directions:

Preheat oven to 350 degrees F.
Start with fresh ingredients. Gather them all on the counter. Trust me. It's easier this way. Then pull out your cutting board, potato peeler and knife, and you're ready to begin.
Chop the top of the garlic heads off, drizzle each with 1/2 teaspoon olive oil and place on a cookie sheet. Cover garlic loosely with aluminum foil and place in the oven for about 30-45 minutes, or until garlic is nice and soft and squishy. And yes, squishy is a technical term in my kitchen.
Chop your onion and shallots. Using a non-stick pan, caramelize your onions and shallots slowly with 1/2 teaspoon olive oil. Use low, to medium-low heat. This is not a fast process. You are using very little oil, so you have to cook them slowly so they don't burn.
While the garlic is roasting and the onions are caramelizing, start cleaning your pumpkins. Cut in half, clean out seeds (reserve them for the next step), peel them with the peeler, and chop them roughly into large chunks.
Brace yourself for the peeling. It's not an easy job! I suppose I could have done this the easy way and baked the pumpkin ahead of time in a pan of shallow water and then just scooped it out into my pot. But then I wouldn't be able to complain about how hard I worked in the kitchen, now could I? So go ahead, it's good cardio. Break a sweat and peel those pumpkins while they're raw. Get wild. You can do it! Oh, and don't forget to check on your onions and garlic. Better to keep a regular eye on them!
Clean your seeds in a colander. When you have all the pumpkin innards removed and all you are left with is seeds, pour a little olive oil in your hand (about 1 tbsp.) and mix it around in the colander. Then add your spices and swirl that around in the colander as well. Pour the seeds out on to a parchment lined cookie sheet, and spread them out evenly. Place in the oven with your garlic and bake for about 15 minutes, or until just barely golden brown (Yes, you may need two timers here).
Peel and core your apples and clean and chop your leek and celery.
Your seeds, garlic and onions should be ready to go, so remove the onions from the heat, and take your garlic and seeds out of the oven. Set seeds aside for later.
When your ingredients are prepared and ready to go, place everything into a large soup pot, except for the seeds. Get the pot hot over high heat, and then immediately reduce heat to low or low-medium heat. Allow this soup to cook covered for about an hour, stirring occasionally. All ingredients should be cooked through and completely soft.
You're almost done! Get out your hand blender or food processor and blend all the soup into a nice thick blended consistency. Add salt and pepper to taste.
Serve topped with a few roasted pumpkin seeds and a nice slice of whole grain bread or crackers. Phew! Told you that was a long one. But when you taste it, you'll know it was worth the effort.
Nutritional Content:
(Data is for 1 cup)
Calories: 101
Total Fat: 3 gm
Saturated Fats: 1 gm
Trans Fats: 0 gm
Cholesterol: 0 gm
Sodium: 202 mg
Carbohydrates: 18 gm
Dietary fiber: 1 gm
Sugars: 5 gm
Protein: 3 gm
Estimated Glycemic Load: 7
Please Note: Nutritional Information estimated at Nutritiondata.com. Data may not be accurate and is subject to the availability of specific foods in their database. Where one ingredient is not listed, substitutions must be used. Therefore, you should not refer to this data as being exact. It's more of a ballpark figure. The Gracious Pantry does not take responsibility for the inadequacies of the nutrition calculator used. This data is provided as a courtesy and general reference only. It is not exact.