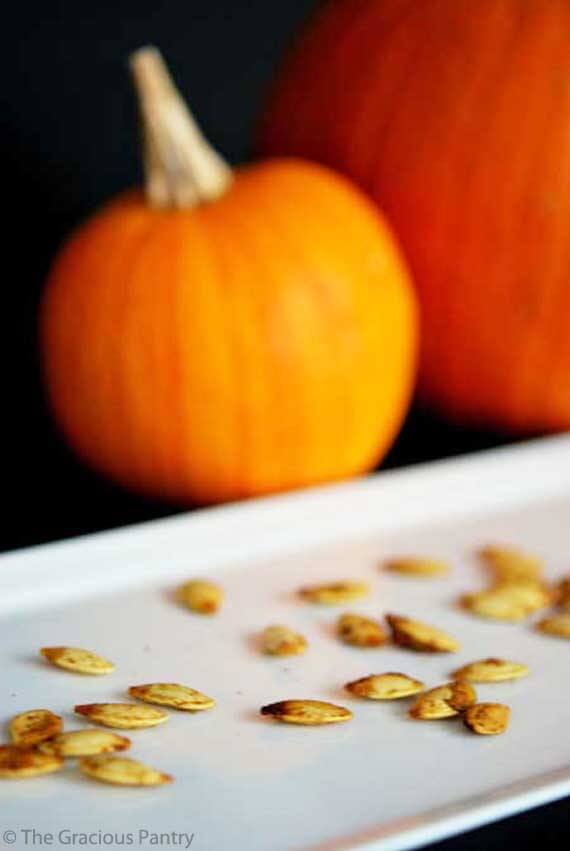 If you like pumpkin seeds at all, you'll love this curry version. Admittedly, I didn't do much planning for this recipe. I had a bunch of seeds and some spices and figured they'd probably taste pretty good together. After all, I needed something to do with the seeds from the pumpkin I was using for soup, and I just couldn't let these lovely seeds go to waste. Boy am I glad I didn't!
Clean Eating Roasted Curry Pumpkin Seeds
(Makes about 2 servings)
Ingredients:

1/2 cup pumpkin seeds (1/2 cup is approximate. Just use all the seeds in a small pumpkin)
1 teaspoon olive oil
1/4 dash salt
1 teaspoon curry powder
Directions:

Combine all ingredients in a bowl and mix well.
Spread seeds out as evenly as possible over a cookie sheet lined with parchment paper.
Bake at 350 degrees F. for about 10 minutes.
Nutritional Content:
(Data is for an approximate 1/4 cup)
Calories: 94
Total Fat: 5 gm
Saturated Fats: 1 gm
Trans Fats: 0 gm
Cholesterol: 0 gm
Sodium: 16 mg
Carbohydrates: 9 gm
Dietary fiber: 0 gm
Sugars: 0 gm
Protein: 3 gm
Estimated Glycemic Load: 6
Please Note: Nutritional Information estimated at Nutritiondata.com. Data may not be accurate and is subject to the availability of specific foods in their database. Where one ingredient is not listed, substitutions must be used. Therefore, you should not refer to this data as being exact. It's more of a ballpark figure. The Gracious Pantry does not take responsibility for the inadequacies of the nutrition calculator used. This data is provided as a courtesy and general reference only. It is not exact.