Clean Eating Roasted Curried Chickpeas Recipe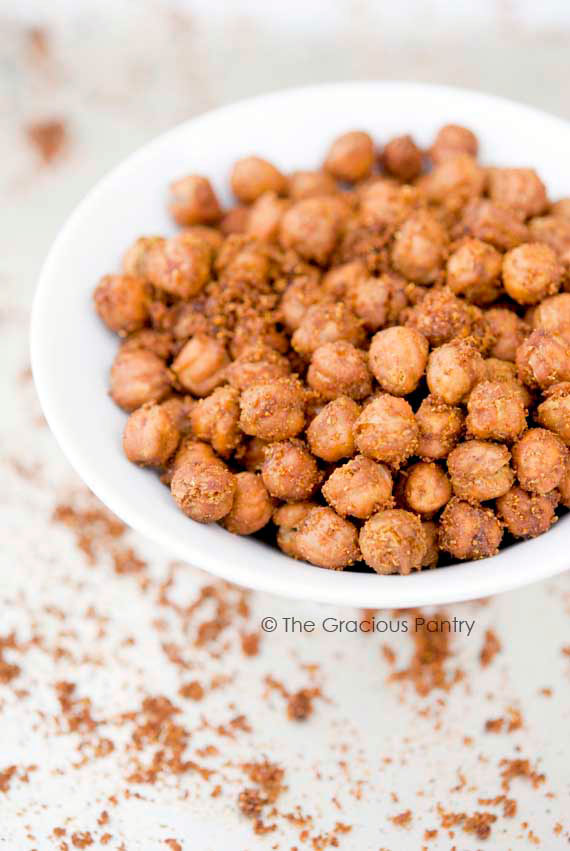 I first made Clean Eating Roasted Chickpeas back in 2011. I loved them, but struggled with getting the texture right. They seemed to be quite chewy in subsequent batches and I couldn't figure out what I had done right the first time, but wrong in every batch thereafter.
I'm now of the opinion that the first time was just a fluke. I'm also of the opinion that I have finally figured it out. I had the temperature too high and wasn't baking long enough. These days, I get them right every time and man are they delicious! I mean, what a great grab-n-go snack for busy folks!
I made this particular recipe for you guys and then ran the entire batch over to a friend. She loved them and munched on them all day at work. I'm thinking that jars of these in different flavors could make a really awesome and affordable special occasion or holiday gifts for the clean eaters in your life. Pack them in some pretty mason jars and tie a bow around the tops. It would make a beautiful presentation!
YOU MIGHT ALSO ENJOY:

Clean Eating Roasted Curried Chickpeas Recipe
Author:
Ingredients
1 (15 oz.) can chickpeas, drained and rinsed, no sugar added OR 1 1/3 cup homemade, plain chickpeas
2 tsp. curry powder
1 tsp. garam masala
1 tsp. garlic powder
1 tbsp. olive oil
Salt to taste
Instructions
In a medium mixing bowl, combine all the ingredients and stir well to coat the chickpeas with the spices.
Pour them out onto an ungreased cookie sheet and spread them out as mush as possible in a single layer.
Bake low and slow. 300 F. for about 1 hour or until they are golden brown and crunchy.
Cool completely and store in an air-tight container in the fridge for up to 3 weeks. (But they won't last that long!)