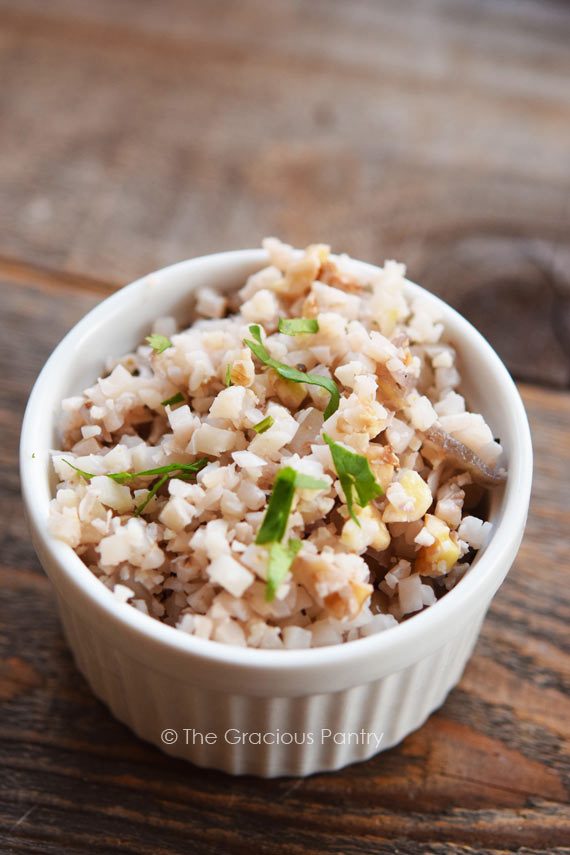 Cauliflower gets a bad wrap. It really does. Most people don't immediately think of cauliflower when thinking about what to make for dinner, and that's a real shame. It's such a versatile vegetable!
I recently purchased some frozen, riced cauliflower from the freezer section at Trader Joe's. It's incredibly convenient for making lower carb salads of just about any kind. Replace couscous or even rice with cauliflower, use it to make pizza crust, or just put a little pat of butter on it to bring it to life on your plate! It's tasty stuff if it's prepared the right way.
Finding the riced version in the freezer section really got my wheels turning. To me, that's the best kind of convenience food there is! Totally clean, and it makes dinner time go much smoother. I mean, I don't know about you but as much as I love my food processor, I HATE cleaning it!! And this took care of that for me!
But if you don't have that available to you, it's easy enough to purchase a medium head of cauliflower, run it through a food processor while it's still raw, and then cook it as desired (although you could also enjoy it raw!)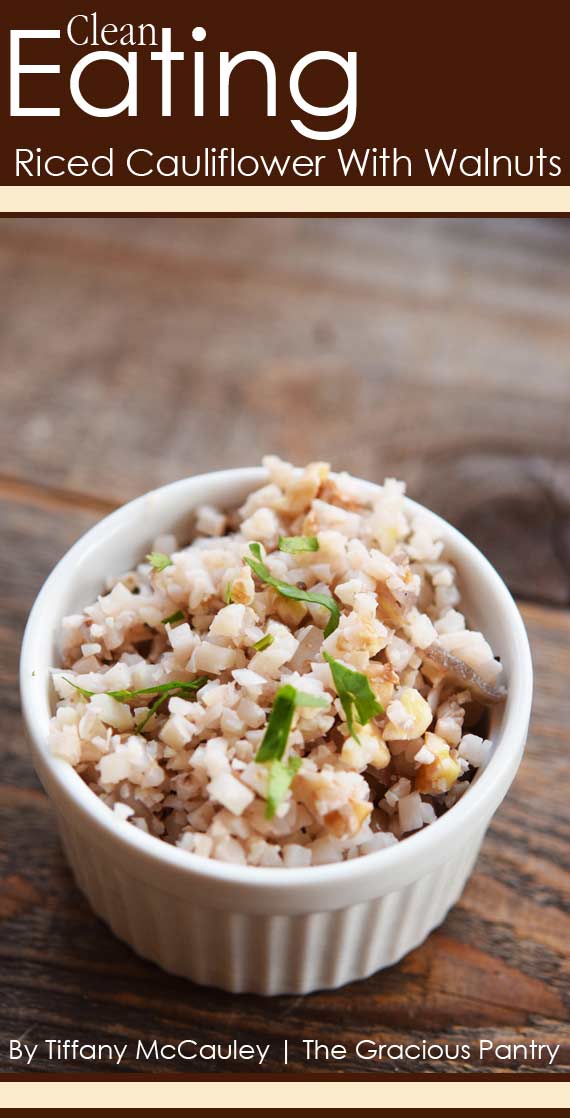 YOU MIGHT ALSO ENJOY:

Clean Eating Riced Cauliflower With Walnuts Recipe
Author:
Ingredients
1 tbsp. light flavored oil
1 large, yellow onion, chopped
2 cups riced cauliflower
1 cup coarsely chopped walnuts
1 lemon, juiced
Salt and black pepper to taste
Instructions
In a skillet, saute the onion in the oil until it becomes translucent.
Stir in the cauliflower and cook as much as desired, tasting for texture about every 3-5 minutes.
When the cauliflower is cooked, transfer it to a serving bowl and toss in the walnuts and lemon juice.
Add salt and pepper to taste (this definitely needs salt).
Allow to cool. This tastes better when it's not really hot out of the pan.