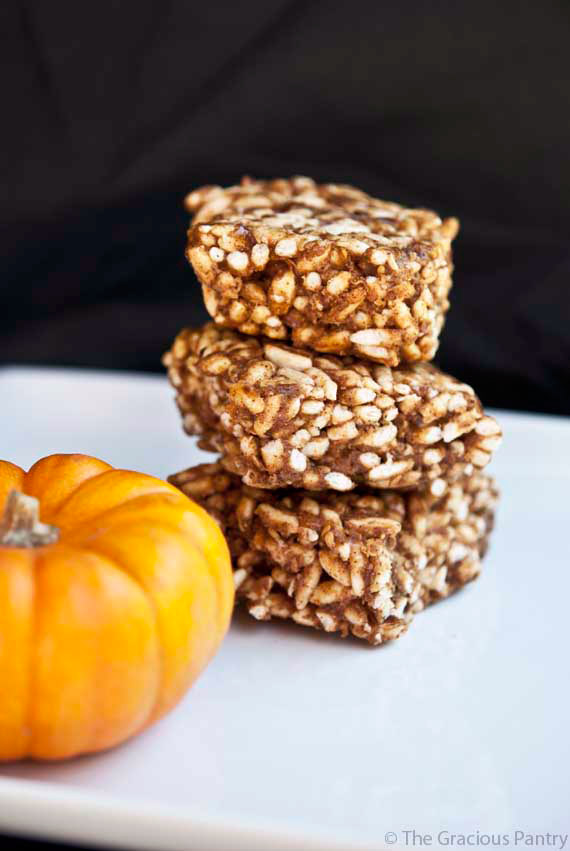 I just have to ask… what good is Halloween without Rice Krispies Treats??
I just can't image it! Can you?
While I try to keep the junk out of my sons diet (rather successfully, I might add), I also don't want him to grow up a social outcast. Can you imagine a kid who goes to a party and has to tell his friends he's never had a Rice Krispies treat? Oh the injustice!
That would be almost as bad as me admitting I've never been to Disneyland! (Did I just type that out loud?)
I found my inspiration for this recipe at Weelicious.com. While I loved the idea for these, I didn't want the flavor of peanut butter in my rice krispies treats, and I wanted a different proportion of goodies when all was said and done. So I basically redid a recipe that was already clean. I encourage you to try the Weelicious recipe as well. Many of her recipes are wonderful, and it's always nice to have a choice in recipes!

Clean Eating Rice Krispies Treats
(Makes 15 servings)
Note: This recipe is gluten free if your rice puffs are uncontaminated.
Ingredients:
1 (16 ounce) jar smooth almond butter, no sugar added
1 cup brown rice syrup
6 cups puffed rice cereal (Make sure you get the kind that is ONLY rice. Nothing else. Check your local health food store.)
Directions:
Combine the nut butter and syrup in a pot and bring to a slow and gentle bubble/boil. Stir constantly so it doesn't burn on the bottom of the pot.
Place the rice puffs in a large mixing bowl. Pour in your almond butter mixture and stir well with a wooden spoon.
When you have everything well combined, transfer to an oiled baking dish. Be sure to get the mixture packed down and give it a smooth surface on top.
Place in the fridge and allow to chill for at least 1 hour.
Cut into squares and serve.