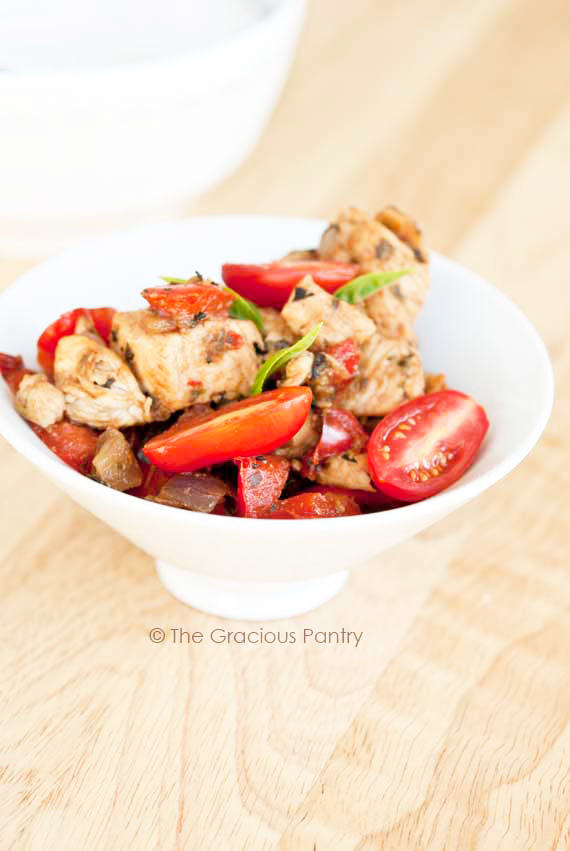 The name here says it all. I took every single red vegetable I had, and cooked it with some chicken. I know, I know, not the most creative dish. But DANG if it didn't turn out tasty!!
And now with everybody focusing on going back to school, I thought this would be a great option for a quick weeknight dinner while you're still trying to get used to the back to school schedule.
Why red vegetables? Well frankly, I seemed to have an abundance of them when I opened up the fridge. But beyond that, red vegetables are little power houses!
Many red fruits and veggies are loaded with powerful, healthy antioxidants — such as lycopene and anthocyanins — that may do everything from fight heart disease and prostate cancer to decrease the risk for stroke and macular degeneration (the leading cause of blindness in people aged 60 and older). Antioxidants soak up damaging free radicals.
I love knowing that every bite I take is giving my body nutrients it needs. I always feel so satiated when I make a point of getting extra nutrients in my meal. And that's no accident!
YOU MIGHT ALSO ENJOY:

Clean Eating Red Vegetable Chicken Skillet Recipe
Author:
Ingredients
1 large red bell pepper
1 medium red onion
2 tsp. oil
2 large chicken breasts (about 7 oz. each), cut into bite-sized chunks
2 tsp. garlic powder
2 tsp. dried parsley
2 tsp. dried basil
1 cup cherry tomatoes, halved
Instructions
In a skillet, saute the bell peppers and onions until soft.
Add the chicken and remaining spices, and cook completely (approximately 15 minutes, depending on the size of your chicken chunks).
Stir in the tomatoes and season with salt and pepper to taste.