Clean Eating Red Lentil Vegetable Stew Recipe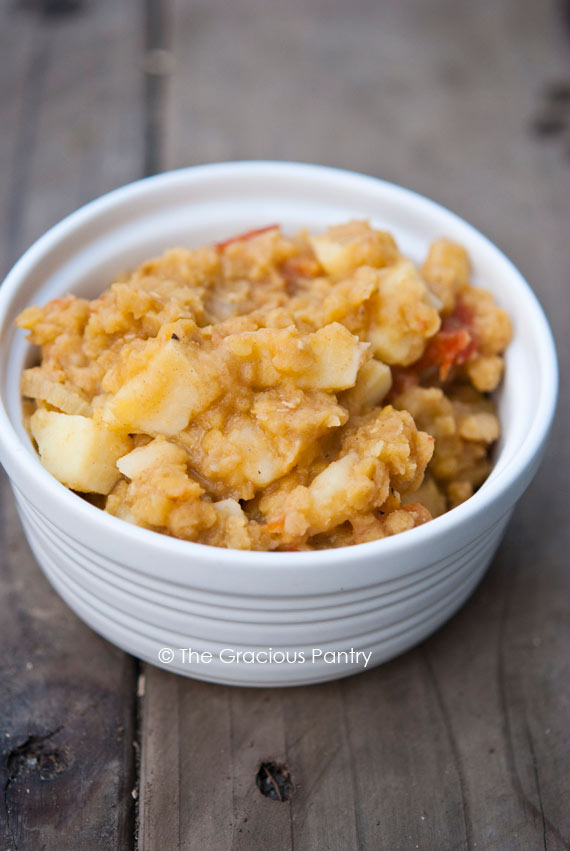 Every once in a while, I go to my fridge, consider what I have available and just formulate something for dinner based on what needs to be used before it goes bad. Those types of meals don't always turn out "blog-worthy", but sometimes I really hit a home run.
I actually didn't have a full cup of carrots (I had roughly a scant 1/4 cup) and I totally wish I had had more to put in this. So I made that adjustment in the recipe below. But outside of that, everything went into the pot as described below and it was marvelous.
Mini Chef sat across from me and cackled when I told him it was an "everything but the kitchen sink" stew. He started coming up with all sorts of outrageous ingredients that must have gone into the stew to make it taste so good. Things like his stinky sneaker, and the microwave. He was certainly entertaining himself with that one!
But both my mom and Mini Chef truly loved this, and so did I. I strongly recommend waiting to add any salt until you are actually sitting down to eat it. If you add it during cooking, the potatoes will soak most of it up and you'll need to add more. So wait until the end so the sodium content doesn't go through the roof.
I hope you enjoy it as much as we did!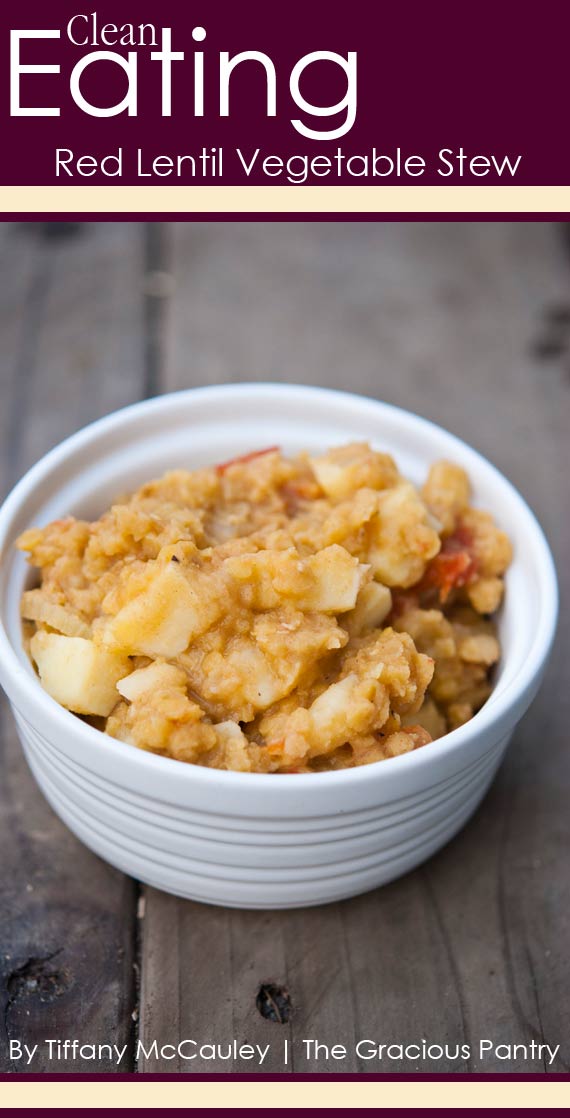 YOU MIGHT ALSO ENJOY:

Clean Eating Red Lentil Vegetable Stew Recipe
Author:
Serves:
12-14 cups depending on how much you boil down the liquid.
Ingredients
6 cups chicken or vegetable broth/stock
1 cup chopped, fresh tomatoes
1 small, yellow onion, chopped fine
1 cup finely diced celery
1 cup peeled and sliced thin carrots
1 tbsp. oil (I used coconut oil)
5 small white potatoes, diced into 1/2 inch cubes or smaller
1 tbsp. garlic powder (OR 6 cloves finely chopped garlic)
1 tbsp. ground cumin
2 tsp. ground coriander
1 tsp. ground cardamom
2 cups small, split, red lentils
Salt to taste
Instructions
Pour the chicken or veggie stock into a large soup pot with the chopped tomatoes and set it aside.
Prepare your onion, celery and carrots, and sauté them over low to medium heat using the oil until the onions are nicely caramelized. This can take a little time, so be patient.
Add the celery and onion mix along with the potatoes to the soup pot and stir in the spices.
Bring to a boil and cook for 20 minutes over high heat.
Stir in the lentils and continue to cook, reducing the heat just slightly. Watch the pot as the lentils can burn on the bottom of the pot if you don't stir them often.
Cool a bit and serve, adding salt to taste.