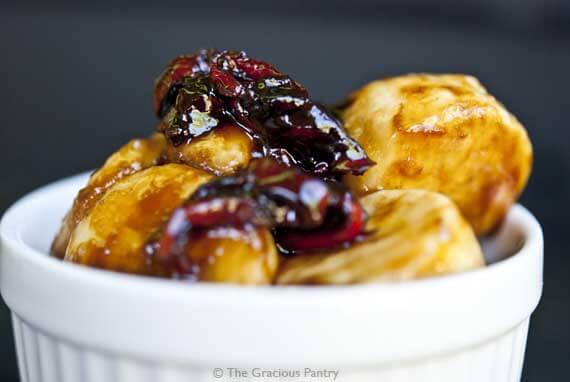 I have a friend who lives in Milan. We'll call her, "TS" for short.
TS loves hot and spicy food, even her desserts! She was telling me about a particular dessert she had made recently and it sounded pretty easy to clean up. So I did.
Her original instructions said to sauté red chili peppers in butter and caramel sugar. Then quickly toss in the bananas and use that entire mixture as a topping for vanilla ice cream.
Once I finished drooling into my ice tea, I remembered that dairy is not my friend. So the vanilla ice cream idea would have to go *whimper*. But then I figured this was a prime opportunity to get a little creative. So I sliced up a nice, red, hot chili pepper and got to work.
I will admit that I am a bit of a wimp where spicy foods are concerned. Okay, a big wimp. In fact, I had to discard the chili peppers after the dish was finished cooking. The bananas were definitely spicy enough for my taste buds. In fact, even with the chilis removed, I was praying for a glass of milk.
BUT….. wow, this was shockingly yummy!
Thanks for the recipe TS! My mouth may never recover, but it was worth every bite!
YOU MIGHT ALSO ENJOY:

Clean Eating Red Chili Pepper Bananas
(Makes 2 servings)
Ingredients:
1 medium red chili pepper, seeds removed and sliced very thin
1 banana, sliced
3 tablespoon coconut sugar OR
1 teaspoon molasses + 1 tbsp. honey
1/2 teaspoon safflower oil
Directions:
In a pan, sauté the chili pepper until it's wilted and completely cooked.
Quickly stir in the sweetener of choice. (If using coconut sugar, it will "ball up" in the pan. Stir vigorously to partially dissolve the clumps of sugar.)
When the chili pepper and the sweetener are thoroughly combined and the pan has a good coating of sweetener on the bottom, remove the pan from the heat.
Working quickly and before the pan has a chance to cool, briskly stir in the bananas just to get them coated (on both sides) with the sweetener. You do NOT want to actually cook the bananas. You just want to coat them with the sweetener and chili pepper.
Quickly removed the entire mixture from the pan, transferring to a bowl or plate. Allow to cool.