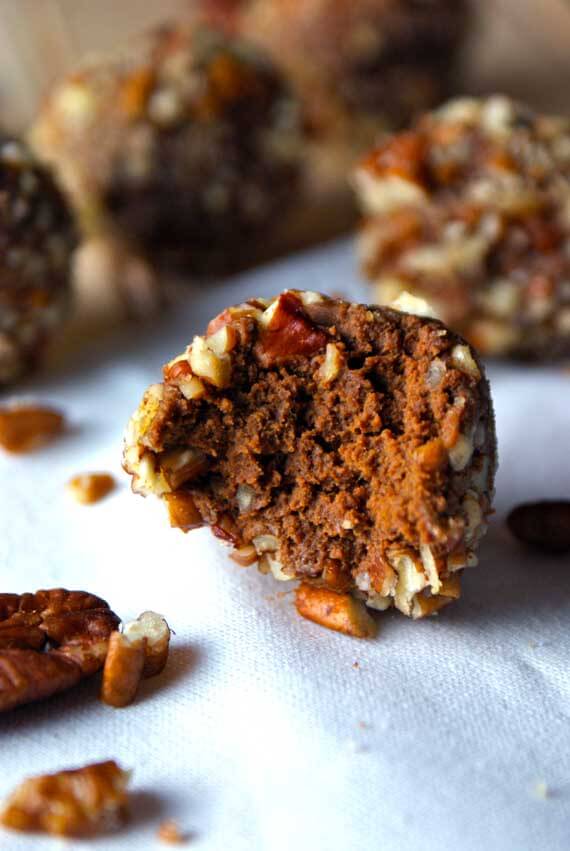 At Thanksgiving every year, I'm the girl that can't ever make up her mind, so I get a small slice of every type of pie available…and then go back for seconds. What can I say? I just like to show how thankful I am for this country through my dessert consumption.
While I definitely indulge at Thanksgiving every year because, frankly, it feels un-American not to, my body wouldn't like me very much if I ate that way every other day of the year. So, what's a girl to do when she wants to eat all the turkey day desserts ever created, but it isn't the holiday yet? She combines her favorite pie flavors into a truffle, that's what!
These pumpkin spice pecan truffles are rich little morsels that combine the flavors of pumpkin pie, pecan pie, and chocolate into one adorable, pecan covered little ball. But don't be fooled; even though these truffles taste like they're probably full of refined sugar and cream, they're made only with completely natural, clean ingredients.
So, next time you're in need of a little seasonal treat, don't feel like you have to compromise your health. Reach for one of these truffles and satisfy cravings in a healthy way ☺
YOU MIGHT ALSO ENJOY:

Clean Eating Pumpkin Spice Pecan Truffles
Author:
Ingredients
1 cup pumpkin puree
1/3 cup melted coconut butter
1/4 cup coconut sugar
5 tablespoons unsweetened cocoa powder
1 teaspoon pure vanilla extract
2 teaspoons pumpkin pie spice
1 cup pecan halves, finely chopped
Pinch salt
Instructions
Melt the coconut butter for :30 – 1:00 in the microwave. Mix the coconut butter with a knife until smooth, then measure. Combine with puree, coconut sugar, cocoa powder, pumpkin pie spice, and salt in a mixing bowl. Refrigerate mixture for 30 minutes.
Finely chop your pecans by hand with a knife, or by pulsing in a food processor. Transfer to a plate or a shallow bowl.
When your truffle mixture has cooled for 30 minutes, form each ball by measuring one tablespoon of the mixture, and rolling in your hands. Then, roll that formed ball into your pecan mixture.
Repeat until you've used up all the truffle mixture.
Eat up!