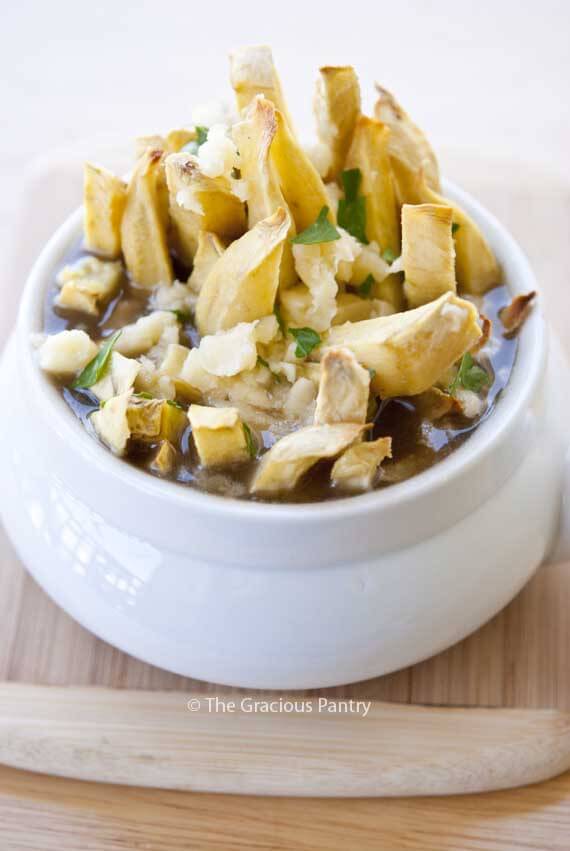 Poutine, pronounced "poo-teen", ( I asked a Canadian to be sure) is a popular Canadian dish which seems to find it's origins in Montreal (or so the internet says…). It's a Canadian classic that no self-respecting tourist should ever pass by. It's sort of like American Chili Fries, only with gravy and cheese.
Well, cheese curds to be exact and I can tell you they are not a common item around these American parts. So if you have a hard time finding them, try a mild, white cheddar. It's not exact, but close enough.
I promised myself last year that I would start branching out with my recipes to include holidays from other countries. Canada Day seemed like the perfect start simply because Canada Day food is so similar to what we enjoy on the 4th of July. So it wasn't that far of a jump and I just couldn't say no to fries with gravy.
And I have to say, it was utter, gravy-filled, cheese n' fries heaven! I tell you what, this may not be a traditional American dish, but it just became a traditional McCauley household recipe. Yum! Those Canadians sure know how to enjoy a good plate of fries!!
YOU MIGHT ALSO ENJOY:

Clean Eating Poutine
Fries Ingredients:
2 large sweet potatoes (the biggest you can find), peeled and cut into fries
Oil in an oil sprayer (about 1 tbsp.)
Gravy Ingredients:
4 cups clean mushroom broth (I used the Pacific brand)
1 tsp. onion powder
1 tsp. garlic powder
1 tsp. dried thyme
1 tsp. dried parsley
1 tbsp. coconut aminos or low sodium soy sauce (I used Brags Aminos)
1 tbsp. butter
2 tbsp. arrowroot powder or organic cornstarch
1-2 tbsp. whole wheat pastry flour (optional if the gravy isn't getting thick enough for you)
Salt to taste if needed
DIRECTIONS:
Fries Directions:
Peel your sweet potatoes and cut them into fries.
Lay them on a parchment lined cookie sheet and spray generously with oil using an oil sprayer.
Spray with an oil sprayer and bake at 350 F. for about 20-30 minutes, or until cooked to your liking.
Gravy Directions:
Combine all gravy ingredients, except the arrowroot powder and whole wheat pastry flour, in a medium to large pot.
Bring to a steady boil.
Whisk in the arrowroot powder a little at a time, whisking vigorously the entire time.
Reduce the heat to a simmer and continue cooking until the broth has reduced by about half.
If at this point you feel the gravy is not thick enough, you can now whisk in the whole wheat pastry flour to get your desired thickness.
Set gravy aside.
Note: You may need to rewarm the gravy if your fries still have a ways to go in the oven.
Final Directions:
Put your fries on or in your serving dish and pour the warm gravy over the top.
Sprinkle bits of cheese curds over the top, allowing them to melt slightly before serving.
Number of servings (yield): 4