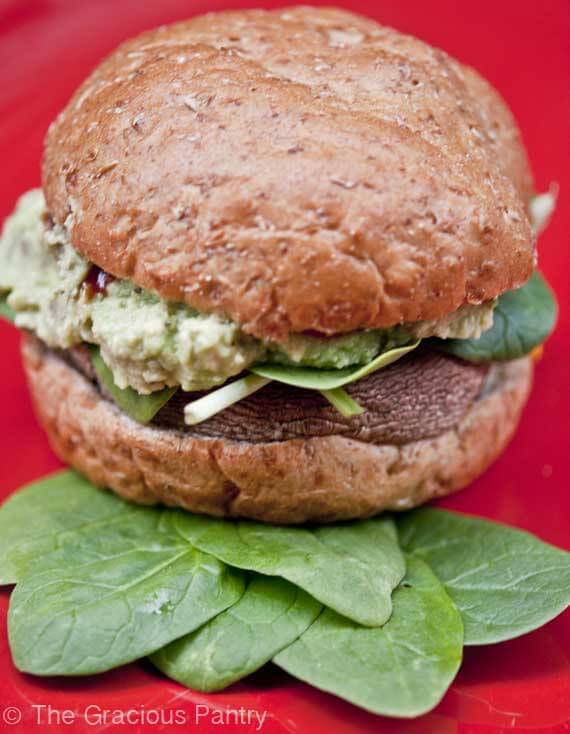 I never had these burgers growing up because frankly, I hated mushrooms for a very long time.
Now that I'm older I LOVE da shroomies! But when I went looking for a clean eating version of this recipe, I was a little dismayed at the amount of fat a lot of recipes contained. So I trimmed down the fat and added my own combination of spices.
Pretty tasty if I do say so myself!
YOU MIGHT ALSO ENJOY:
Clean Eating Portobello Mushroom Burgers
(Makes 4 burgers)
Ingredients:

4 portobello mushrooms
4 teaspoons garlic powder
4 teaspoons onion powder
4 teaspoons ground pepper
8 tablespoons alfalfa sprouts
4 tablespoons mashed avocado
4 teaspoons mustard
4 hamburger buns
Directions:

Preheat oven to 350 degrees F.
Place your mushrooms on a parchment lined cookie sheet.
Sprinkle with spices.
Cover loosely with foil and place in oven. Bake for 30-40 minutes, or until soft and cooked through.
Assemble your burger using the rest of the ingredients.
Serve with a side of veggies.
Nutritional Content:
(Data is for 1 burger. Does not include the bun.)
Calories: 208
Total Fat: 10 gm
Saturated Fats: 1 gm
Trans Fats: 0 gm
Cholesterol: 0 gm
Sodium: 89 mg
Carbohydrates: 23 gm
Dietary fiber: 10 gm
Sugars: 2 gm
Protein: 14 gm
Estimated Glycemic Load: 11
PLEASE NOTE: Nutritional Information estimated at Nutritiondata.com. Data may not be accurate and is subject to the availability of specific foods in their database. Where one ingredient is not listed, substitutions must be used. Therefore, you should not refer to this data as being exact. It's more of a ballpark figure. The Gracious Pantry does not take responsibility for the inadequacies of the nutrition calculator used. This data is provided as a courtesy and general reference only. It is not exact.