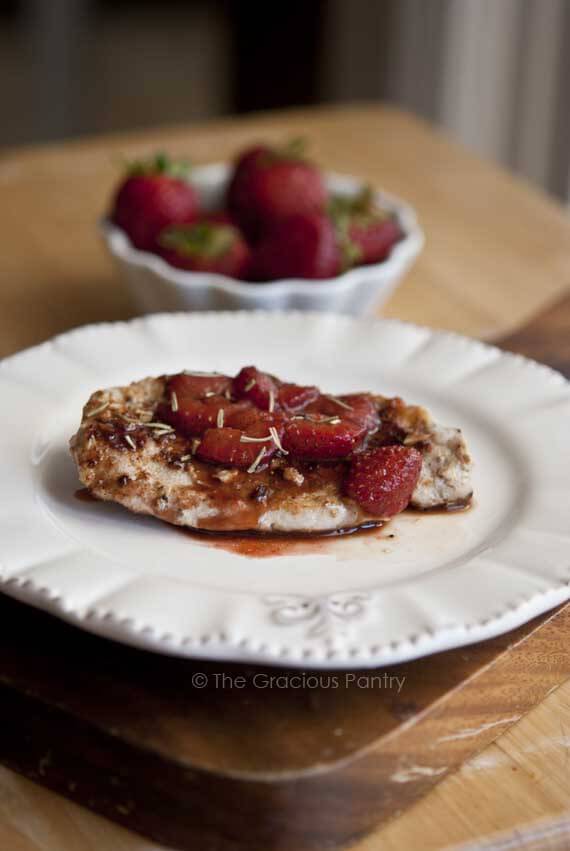 I don't always start a post off by saying, "oh my!", but….. oooohhhhh myyyyy!!!! This is hands down the best pork recipe ever. At least in my humble opinion.
This week is all about you parents out there who get home at the end of a busy day and just need a quick dinner to throw together as fast as possible. This recipe definitely fits the bill. It's ready in under 20 minutes!
There is such an amazing blend of simple but strong and aromatic flavors that you can't help but go back for seconds. The sweet, balsamic strawberries mingle with the fragrant rosemary in a complete and utter symphony of tart, savory sweetness. It's really pretty incredible. I wouldn't lie to you about something like this. I swear.
Serve this with some brown rice or other whole grain and some vegetables like asparagus, spinach, or even just a salad.
Now I need to add that this is an eMeals recipe. Quite possibly the best eMeals recipe I've cooked to date. And I also have to tell you that if you click on this eMeals link and subscribe to eMeals, that I will make a small commission from the sale. And yes, I'm required to tell you that. I'm not just sticking it in here for fun. But the other side of that coin is that if you do subscribe, (which I really encourage you to do!), you'll get amazing, simple, quick recipes like this one in your email every week. What's not to love?
But either way, you've just GOT to try this recipe!

Clean Eating Pork Chops with Balsamic-Strawberry Sauce
(Makes 2 servings)
Ingredients:
2 boneless pork loin chops
1/2 teaspoon salt
1/2 teaspoon pepper
2 cloves garlic, minced
1 tablespoon chopped fresh rosemary (or 1 tsp. dried)
2 tablespoons olive oil, divided
2 cups sliced fresh strawberries
1/4 cup balsamic vinegar
2 tablespoons honey
Directions:
Sprinkle pork with salt and pepper; rub with garlic and rosemary
Heat 1 tablespoon oil in a large nonstick skillet over medium-high heat; add half of pork chops
Cook 2 to 3 minutes on each side, or until done; remove from skillet and keep warm
Repeat procedure with remaining 1 tablespoon oil and remaining pork chops
Add strawberries, vinegar and honey to pan; cook 5 to 6 minutes, stirring occasionally, until sauce is slightly thickened
Serve sauce over pork chops