Clean Eating Poached Pears
This post may contain affiliate links. Read my
Privacy Policy.
As an Amazon Associate I earn from qualifying purchases.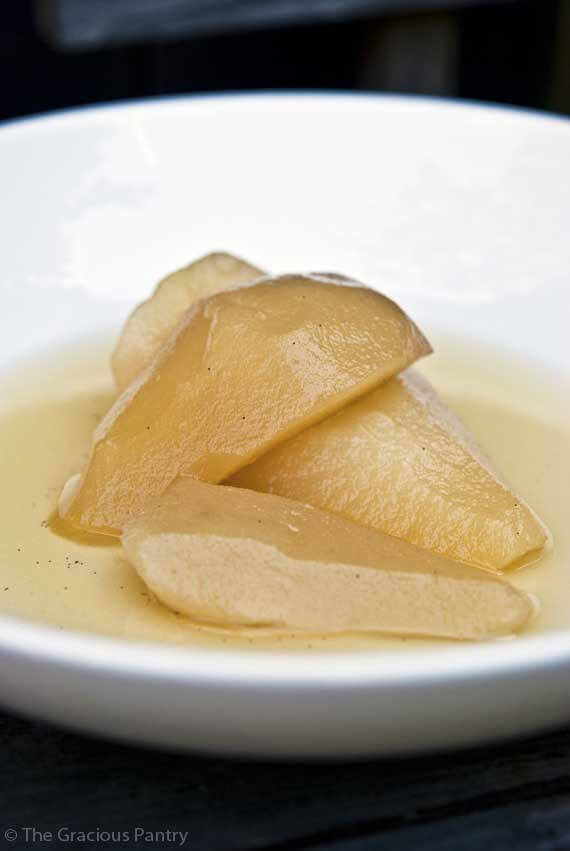 Have you ever wished you were just a tad bit more elegant and refined? Be honest here. We've all been there at one point or another.
My point came when I had to attend a fancy-schmancy wedding several years ago with a meal served in about a thousand different courses. The kind of meal where you're served a bazillion different plates of food that all have exactly one pea, one alfalfa sprout and a single drop of mystery sauce on it. The kind of meal where you find yourself making a B-line for the nearest restaurant when it's all over with because your tummy is growling so hard it's likely to be heard over the band that is playing at ear-splitting decibels. The kind of meal where you have to make sense out of all that silverware….. need I say more?
Well, alrighty then….

If you've got some pears at home that have one seed in the grave, you can revive them simply by poaching them. They still taste like regular pears, but with a little added "something" that's simply elegant. And if my story above is any indication, we can all use just a tad more elegance in our lives. Don't you think?
And here's an added bonus: If you boil the liquid down far enough, you'll have a really yummy, not-so-thick syrup to go over those whole grain pancakes you've been meaning to make!
I should tell you now that I used David Lebovitz's method for poaching these pears. In fact, I used his recipe too.
Out of respect to a fellow blogger, I will not be posting the recipe here, as I did not change the recipe enough to call it my own. And I don't believe in plagiarism or "borrowing" other people's recipes for my blog. So with that in mind, I will send you to his site for the recipe and instructions along with only two of my own recommendations.
Ready for it?
Instead of using the sugar called for in his recipe, use 3/4 cup honey or maple syrup.
I strongly recommend using his parchment paper technique. Works like a charm!
Here's the link to his site! (Click here.)