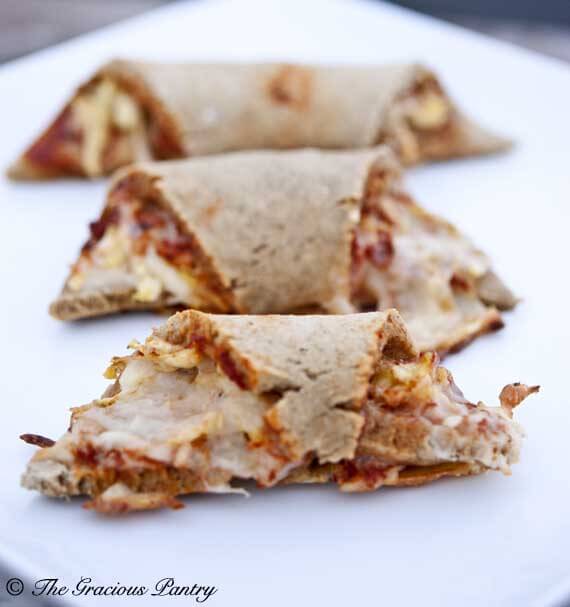 I spend a small amount of time on Pinterest every day. (Yes, I said small. Don't laugh.) I saw a photo there of some pizza rollups that immediately got me to thinking how easy it would be to do a clean version and how wonderful they would be as an appetizer for a BBQ or party.
If you load up a plate of these and then serve them with marinara for dipping, how cute would that be? So I got to work and came up with this recipe. I ended up serving it for dinner because I don't entertain a lot around here. Needless to say, there were no leftovers…
YOU MIGHT ALSO ENJOY: 

Clean Eating Pizza Roll Ups
Ingredients:
1 batch clean eating pizza dough
1 jar clean marinara or pizza sauce
2 cups shredded or finely chopped veggies of choice (zucchini, bell peppers, mushrooms…)
Shredded cheese (optional)
Directions:
Make your pizza dough and roll it out into a rectangular shape.
Cut the dough into triangles using a pizza cutter.
Spread a thin layer of sauce over each triangle and sprinkle on some veggies.
Roll up the triangles and place on a parchment lined cookie sheet.
Bake at 350 F. for approximately 20 minutes (this can vary depending on how thick and how full the rolls are, so keep an eye on them).
Allow to cool and serve with more marinara for dipping.