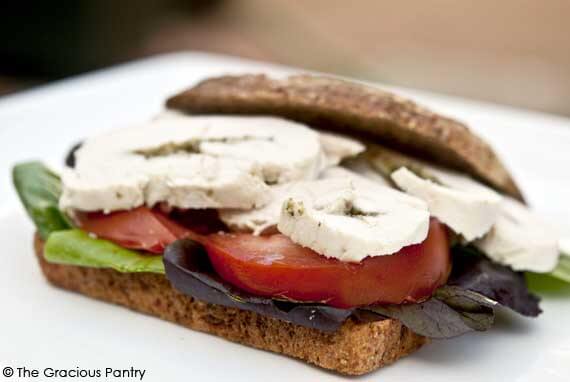 Yes, it's easy to pick up deli meat for sandwiches at the store to make school or work lunches with. And yes, many people believe it to be perfectly healthy. But after reading the ingredient list and checking out just how much regular deli meat gets processed, I set out to find a way of making my own.
With the kids back in school and most adults in need of not only lunch ideas for their kids but for work lunches for themselves, I figured this recipe (which is from my slow cooker cookbook) would be a nice addition to the "back to school" theme this month. And it is certainly helping me pack Mini Chef's lunch every day!
You can slice this thin by hand with a good, sharp knife, but if you are fortunate enough to have a meat slicer in your kitchen, then that is really the way to go. Unfortunately, I don't have one (yet), but I did just fine slicing by hand. Please note that if you are looking for a deli meat flavor, you will want to add a lot of salt to this. It's best to add this to the sliced meat when you make your sandwich however. Adding it during cooking will only create the need to add more salt.
RECIPES USED:

Clean Eating Pesto Chicken "Deli Meat"
Author:
Ingredients
2 large boneless, skinless chicken breasts (about 8 oz. each)
2 tsp. basil pesto, no sugar added (homemade is best)
Salt to taste
Instructions
Tenderize chicken breasts with a meat tenderizer
Spread pesto between the 2 chicken breasts, spreading it evenly over the entire surface of the chicken.
Roll chicken up and lay in slow cooker open edge down so they don't unroll.
Cover and cook on low for 3-4 hours or until chicken is fully cooked.
Slice and sprinkle with salt to taste.