I don't know about you, but I love pasta. And one of my favorites is Couscous.
It's incredibly versatile. You can make almost any type of salad you want out of it and you're pretty much ensured a delicious meal. But I'm trying to cut back on pasta as of late. I love it, but it doesn't love me (or so my hips tell me when I try to squeeze them into my pants in the morning). So instead, I thought I'd give couscous salad a try, but with cauliflower instead of real couscous.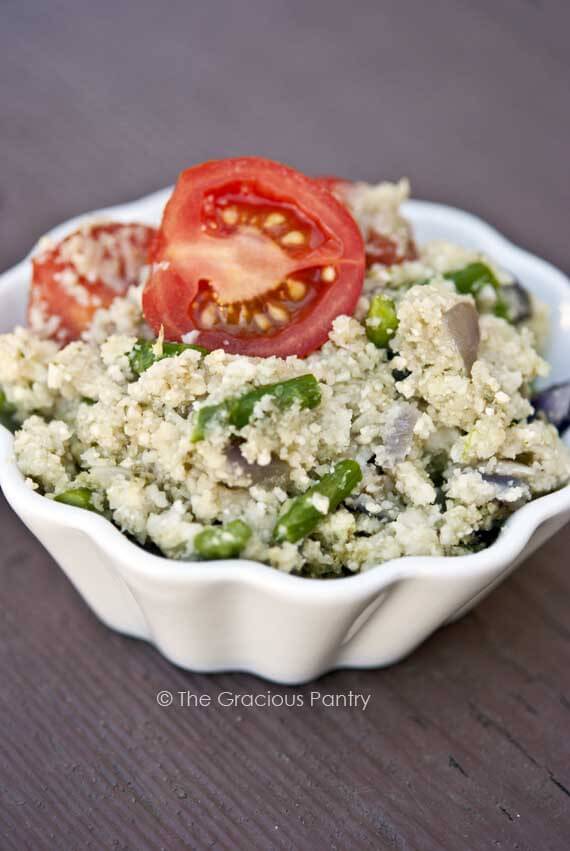 I have to tell you, it was hard to tell the difference. A slight one, maybe… but all in all, this was just like eating a couscous salad. Even Mini Chef scarfed it down (No, I didn't tell him it was cauliflower. Sometimes a mama has to be a little sneaky in the vegetable department.) I even had the chilled leftovers for lunch the next day and they were perfect! I highly recommend this!
It's also a very versatile dish. Want more protein? Add some cooked chicken chunks! Need less fat? Cut back on the olive oil by 1 or 2 tablespoons. More flavor? Sprinkle a little parmesan cheese over the top. Either way, I think you'll enjoy this.
YOU MIGHT ALSO ENJOY:

Clean Eating Pesto Cauli-CousCous
(Makes approximately 6 servings)
Ingredients:
1 medium head cauliflower, washed, dried and chopped
6 oz. frozen asparagus, cut into 1/2 inch pieces
1/2 large red onion, coarsely chopped
1 tbsp. coconut oil (olive oil will also work)
8 cloves garlic, chopped OR 1 tbsp. garlic powder
10 oz. cherry tomatoes, halved
SAUCE
1/4 cup unrefined olive oil
1 cup packed fresh basil leaves
Directions:
Chop your cauliflower into pieces small enough to fit in your food processor. You may want to process half of the cauliflower at a time. Once processed to couscous consistency, transfer to a medium bowl.
Add the chopped asparagus and garlic powder (if using) to the cauliflower and set aside. No mixing necessary.
In a small blender, blend together the basil and olive oil until you have a smooth, liquified sauce. Set aside.
Saute the chopped onions (and fresh, chopped garlic if using) in the coconut oil until translucent. Slight caramelization is a bonus, but not necessary.
To the onions, add the bowl of cauliflower and asparagus.
Cook, stirring constantly, for approximately 5 minutes, or until the cauliflower is warmed through.
Transfer the cauliflower back to the mixing bowl and allow to cool.
Once cooled, stir in the sauce and the cherry tomatoes.
Mix well.
Serve slightly warmed or cold from the fridge.
Add salt and pepper to taste.
Preparation time: 15 minute(s)
Cooking time: 10 minute(s)