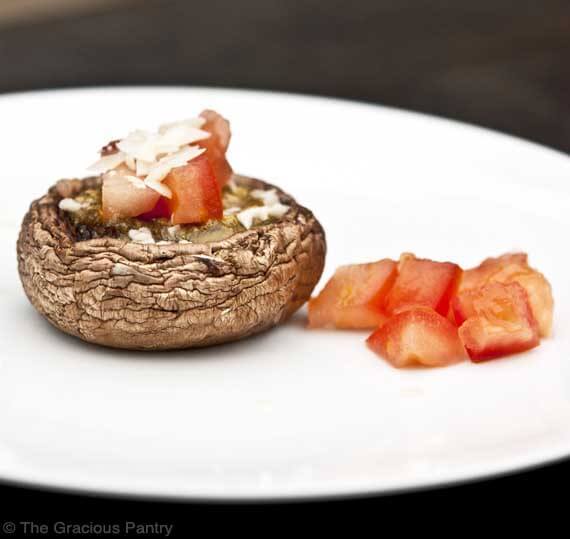 Breakfast is such an important meal. It literally "breaks the fast" and gets your body going. Put the wrong thing in your body for this first meal, and it can really start your day off on a bad note.
But at the same time, you don't want to sacrifice flavor. Breakfast should be yummy and leave you with a good feeling. A feeling that says you actually enjoyed what you ate.
While these would make an excellent appetizer or side dish, I chose to make these for breakfast and it definitely started my day on the right foot! Satisfying without weighing down my tummy.
It's convenient too because you can assemble these the night before and store in the fridge. Just pop them in the oven when you first wake up in the morning, and 30-40 minutes later, you'll have a yummy breakfast. Oh, and they're fairly portable too! What more could you ask for in a breakfast???
YOU MIGHT ALSO ENJOY:

Clean Eating Pesto and Egg Breakfast Mushrooms
(Makes 6 mushrooms)
Ingredients:
6 large crimini mushrooms, washed and stems removed
2 whole eggs (or 4 egg whites)
1 teaspoon prepared (or homemade) pesto
Tomatoes, chopped, for garnish
Grated Parmesan cheese, for garnish
Directions:
Preheat oven to 350 degrees F.
Line a cookie sheet with parchment paper (not wax paper).
Set your mushrooms, hollow side up, on the cookie sheet.
In a bowl, whisk together the egg and pesto.
Carefully and slowly pour small amounts of egg into each mushroom. They overfill easily, so take your time. But do fill them close to the top.
Bake for 30-40 minutes, or until egg is completely cooked through (you can cut into one of the mushrooms to be sure).
Remove from oven and allow to cool. Tope with tomatoes and parmesan and serve.