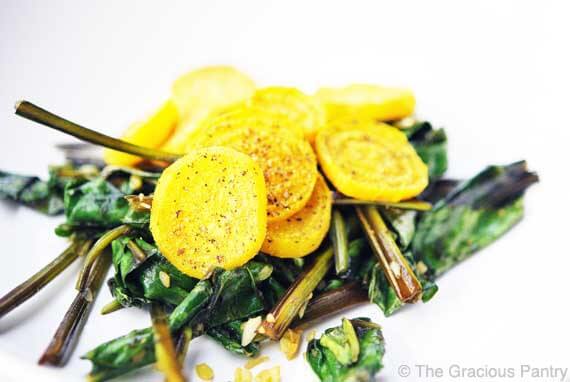 Happy 4th everyone!
What better way to celebrate than to enjoy our independence from junk food with some good, earthy veggies! If you like peppery foods, this is the veggie dish for you! It has a really strong flavor and an even stronger "bite". I should tell you that you do need to be a beet fan to enjoy this dish. I've found that, generally speaking, there are two kinds of people in the world. Those that love beets and those that hate them. I don't think I've met anyone yet that is somewhere in the middle.
So if you are a beet fan, you should definitely enjoy this!
YOU MIGHT ALSO ENJOY:
Clean Eating Peppery Garlic Beets
(Makes 2 servings)
Ingredients:
4 yellow beets, including the greens
1 tablespoon garlic powder (more if desired)
1 tablespoon olive oil (approximate)
2 garlic cloves
Fresh ground pepper, to taste
Directions:
Preheat oven to 350 degrees F.
Peel and slice your beets (about 1/4 inch thick).
Lay them out on a cookie sheet that has been lightly sprayed with olive oil. Sprinkle with generous amounts of garlic powder and fresh ground pepper. Place in the oven for approximately 30-45 minutes, or until they start to brown and shrivel a bit. They should be soft to bite into.
While the beets bake, wash your greens and chop them into large pieces.
Peel and chop your garlic.
Put the fresh garlic in a pan with a small amount of olive oil. Brown it slightly, then add the greens and cook until they are limp.
Put the greens in a bowl and top with the baked beets.
Nutrition Content:
(Data is for 1/2 the recipe)
Calories: 143
Total Fat: 7 gm
Saturated Fats: 1 gm
Trans Fats: 0 gm
Cholesterol: 0 gm
Sodium: 214 mg
Carbohydrates: 18 gm
Dietary fiber: 6 gm
Sugars: 11 gm
Protein: 4 gm
Estimated Glycemic Load: 6
Please Note: Nutritional information estimated at Nutritiondata.com. Data may not be accurate and is subject to the availability of specific foods in their database. Where one ingredient is not listed, substitutions must be used. Therefore, you should not refer to this data as being exact. It's more of a ballpark figure. The Gracious Pantry does not take responsibility for the inadequacies of the nutrition calculator used. This data is provided as a courtesy and general reference only. It is not exact.