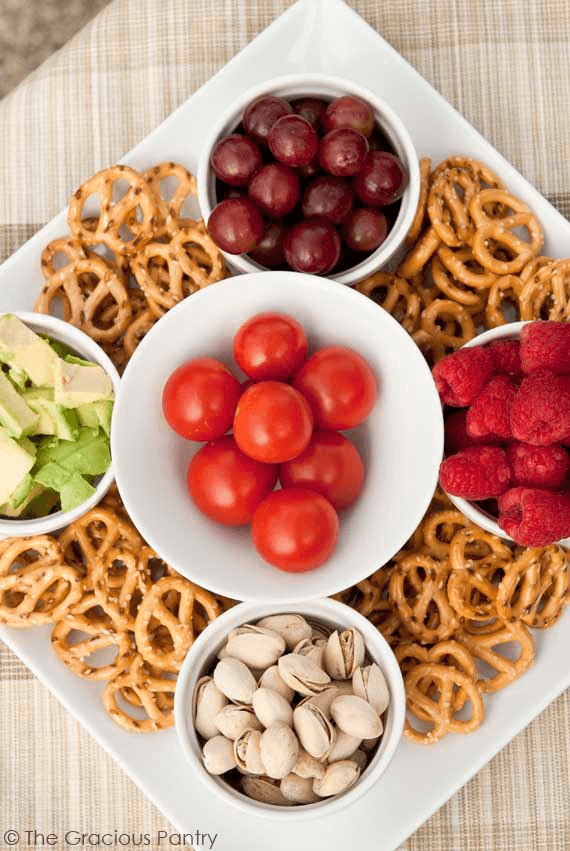 With the upcoming holiday, I'm getting asked a lot about what to bring to family functions and other types of parties so that you aren't left to dig into a buffet table that is anything but clean.
Typically, I tell people to bring at least one main dish with them. It's usually appreciated by the hostess, and even if you don't stick to your eating plan 100%, at least you know there is something there that is clean.
But what about something a little lighter? Something that lets you feel okay about snacking?
Often the worst foods at a part or buffet table are the snacks. Snacks are easy to buy in a package and empty into a serving bowl. So they are often the most processed foods available at a party.
If you'd like to try your hand at creating a party tray you can feel good about eating from, here are some ideas for what to put on your platter.
And don't for get the cute toothpicks! It makes it so much easier to pick up some of the foods on a party tray.
Grapes
Avocado pieces
Pistachios
Raspberries
Cherry tomatoes
Cucumbers
Watermelon
Strawberries
Blueberries
Walnuts
Whole grain pretzels (mine were spelt)
Cantaloup
Segmented mandarin oranges
Carrot sticks
Broccoli florets
Cauliflower florets
Whole grain crackers (I use Ak-Mak crackers)
Apple slices
Fruit juice sweetened, dried cranberries
Raisins
Almonds
Clean Eating Onion Dip
Clean Eating Guacamole
Clean Eating Fruit Dip
Pecans
Pears
Cashews
Honey dew melon balls
Hard boiled eggs
Pineapple
Clean Eating Energy Balls
Clean Eating Muffins (mini's are great for party trays!)
Clean Eating Savory Muffins (again, mini's would be great here!)
Bell pepper strips
Kiwi chunks or slices