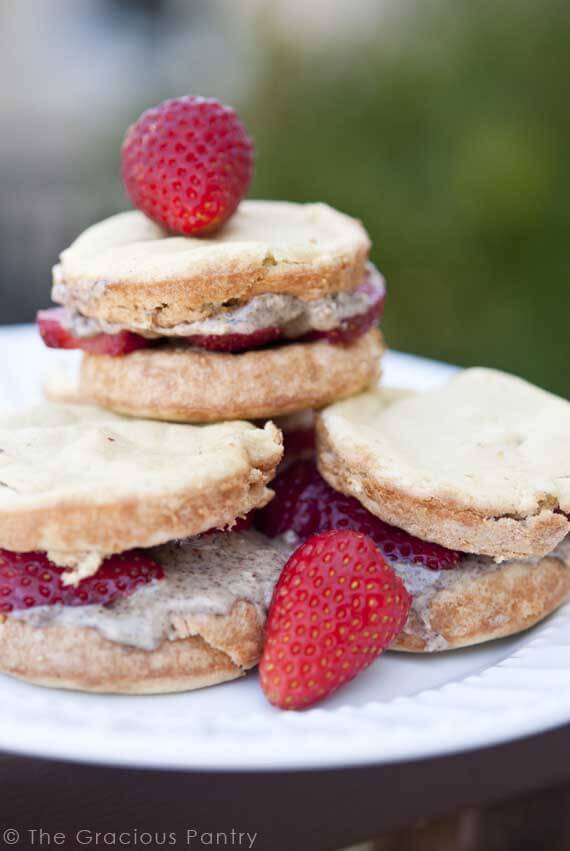 I admit, I love to play around with Paleo-style recipes. It's a way of cooking that I'm not entirely used to yet and I still end up with a lot of flops. But when I do get it right, it's pretty darn tasty!
Mini Chef loved these! I gave them to him as an after school snack and he gobbled them up with a big smile on his face. I didn't even have to put any maple syrup over the top. He loved them as is!
If you prefer a sweeter "biscuit", you can add a little stevia or even a teaspoon or two of coconut sugar or other clean, dry sweetener. But these were pretty tasty without!
YOU MIGHT ALSO ENJOY:

Clean Eating Paleo Panwiches
(Makes 12 biscuits)
Ingredients:
3 whole eggs
1/4 cup coconut flour
1/4 cup water
1 tsp. pure vanilla extract
1 tbsp. arrowroot powder
Directions:
Blend all ingredients together in a mixing bowl and ladle the batter into an oiled, standard size muffin tin. About 1 tbsp. per well is about right. If you have any batter left over, simply divide it evenly between each well.
Bake at 350 F. for approximately 10-15 minutes. (Baking times may vary by oven and altitude).
Allow to cool, then run a plastic knife around the edges to loosen. These did take a small amount of coaxing to get them out of the muffin tins. But it wasn't too bad. If you ware worried about it, you can always use cupcake papers or line the bottoms of the wells with circles of parchment.
Spread some nut butter on and add some fruit to serve.