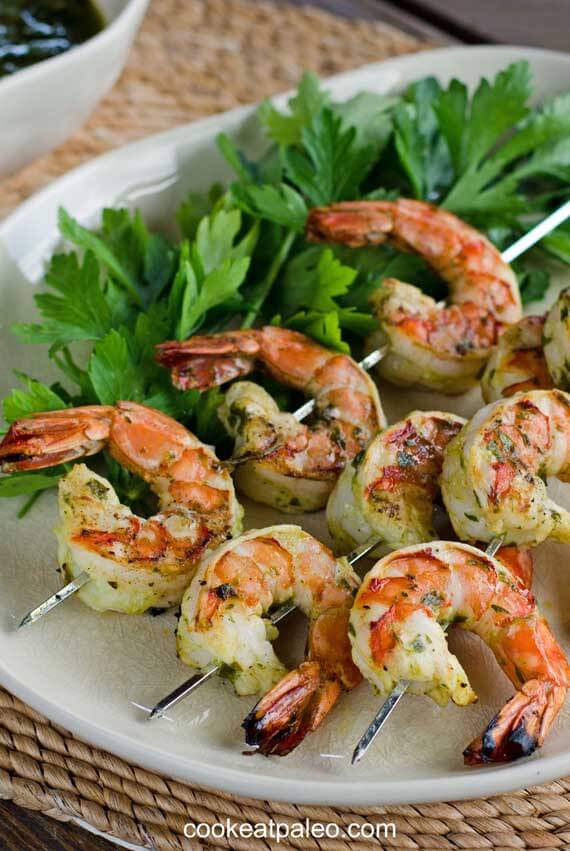 Chimichurri grilled shrimp is a perfect summer recipe. It's quick and easy to put together, and you can make it without turning on the stove. Even better, it's delicious! The fresh clean flavors of garlic, lemon and herbs are wonderful with the grilled shrimp. And all of the ingredients fit both paleo and clean eating.
The great thing about grilling shrimp is that they have a built in thermometer. They turn pink when they're done. It takes just a few minutes for them to cook, so be careful not to overcook the shrimp or they will get tough.
This simple chimichurri sauce uses fresh parsley, garlic, lemon and olive oil. You can make it in a blender or a food processor. I've been making a lot of chimichurri sauce lately and it's good on just about everything. This paleo chimichurri grilled shrimp is no exception.
YOU MIGHT ALSO ENJOY:

Clean Eating Paleo Chimichurri Grilled Shrimp
Author:
Ingredients
1/2 cup olive oil
1 cup loosely packed Italian parsley leaves
juice of 1 lemon
2 tablespoons white wine vinegar
2 cloves garlic, peeled and roughly chopped
1/2 teaspoon sea salt
1/4 teaspoon freshly ground pepper
16 large uncooked shrimp, peeled and deveined
Instructions
To make chimichurri sauce, combine all ingredients except shrimp in blender or food processor and blend until parsley and garlic are finely chopped.
Toss shrimp with enough chimichurri sauce to coat and marinate for 15 minutes. Reserve remaining chimichurri sauce for serving.
Heat grill to high.
Thread shrimp on skewers and discard marinade.
Grill shrimp until pink and just cooked through, about 2 minutes per side.
Author Bio:
Lisa Wells is the author of Cook Eat Paleo where she shares quick and easy gluten-free, grain-free recipes made with real whole food ingredients.