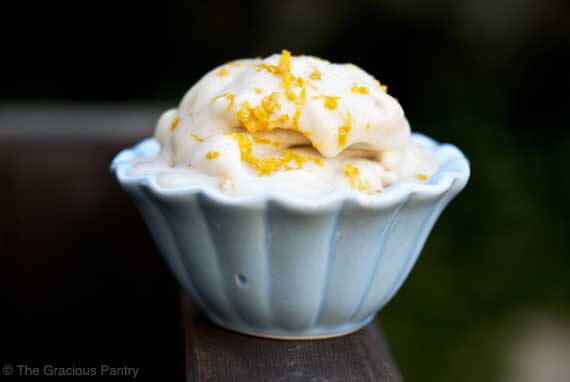 Remember when you were a kid, and it was summer, and it was hot, and you went to the store for ice cream, and you came home with those orangesicle popsicles?
Ya, you do. I know you do.
Admit it.
And it was gooooooood.
While this isn't an exact replica, it's as close as you will ever get as a clean eater. At first, you taste the banana and vanilla. But then you get this aftertaste that is pure orangesicle. Totally zapped me back to being a kid. Those days of spinklers, slip n' slides, lemonade and blazing heat that could only be remedied with orangesicle popsicles. Those were good days.
YOU MIGHT ALSO ENJOY:

Clean Eating Orangesicle Banana Ice Cream
(Makes approximately 4 cups)
Ingredients:
5 bananas – sliced and frozen
1/2 cup unsweetened vanilla almond milk (adjust as needed for consistency)
1 teaspoon vanilla extract
1 1/2 teaspoon orange extract
zest of 1 orange
1 tablespoon. honey (optional)
Directions:
Place all ingredients in a food processor and blend until smooth.
Note: This cannot be frozen after it's made. If it's too much, cut the recipe in half. It's an "eat-it-all-after-making-it kinda recipe. Also note that using too much of the orange extract can leave a bitter taste in the ice cream. So you may want to start off with a bit less and add to taste if you are very sensitive to those types if tastes.