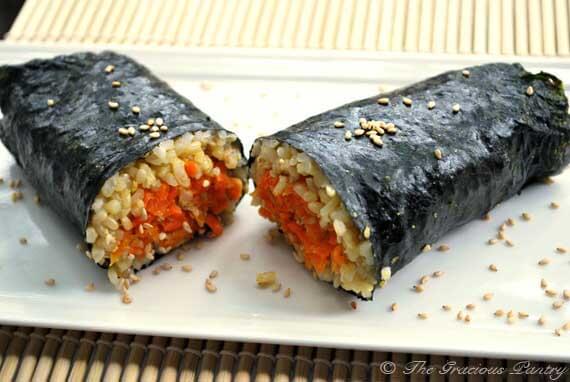 I had a huge pot of rice left over from dinner last night, so I made it a point to use some for lunch. I'm bound and determined not to let that darned pot of rice go bad this time. I hate being wasteful. It seems so "rude" in this day, age and economy.
So I stomped off to my kitchen, starving and determined as I've ever been to create something… anything with rice.
I skeptically opened my fridge to see what I had in there and I was somewhat disappointed as I hadn't done my grocery shopping for the week yet. But then I saw a light at the end of the starvation tunnel.
I had some carrots. That was good.
I had some chicken broth. Getting better.
I just bought some roasted sesame seeds last week. Things are improving.
I always keep nori in my cabinet. My day has sunshine.
I had a brand new bottles of garlic and onion powder. The clouds have parted and the birds are singing!
So here's what I came up with while standing in front of that very empty fridge.

Clean Eating Nori Carrot Wraps
Ingredients:

3 large carrots
2 cups cooked brown rice (warmed till hot in the microwave)
1/4 cup chicken broth (veggie broth if your vegetarian)
1 tablespoon garlic powder
1 tablespoon onion powder
Roasted sesame seeds
4 sheets nori
Directions:

Put the broth into a frying pan.
Grate carrots into a frying pan.
Add 1-2 Tbsp. Sesame seeds to the carrots as they cook. (You may have to add additional broth as you cook. Cook the carrots until they are the texture you enjoy most.)
Add garlic and onion powder.
Make sure your broth is cooked down almost completely before turning off the stove. Once done, set aside.
Lay out your nori on a flat surface.
Spread warm rice over nori in a thin layer.
Spread carrots over rice and sprinkle sesame seeds to your liking.
Roll up the nori.
This is what the finished roll looks like.
Serve with low sodium soy sauce for dipping.
Other additions: Usually, I'll add long, thin strips of tofu to the wrap as well, but I didn't have any due to the empty fridge situation.
You can also add 1 tsp. of ginger powder, or 1 Tbsp. of fresh, grated ginger to your carrots while they cook.
Nutritional Content:
1 serving = 1 roll
Calories: 276
Total Fat: 8 gm
Saturated Fats: 1 gm
Trans Fats: 0 gm
Cholesterol: 0 gm
Sodium: 108 mg
Carbohydrates: 48 gm
Dietary fiber: 7 gm
Sugars: 3 gm
Protein: 7 gm
Estimated Glycemic Load: 22
Please Note: Nutritional Information estimated at Nutritiondata.com. Data may not be accurate and is subject to the availability of specific foods in their database. Where one ingredient is not listed, substitutions must be used. Therefore, you should not refer to this data as being exact. It's more of a ballpark figure. The Gracious Pantry does not take responsibility for the inadequacies of the nutrition calculator used. This data is provided as a courtesy and general reference only. It is not exact.