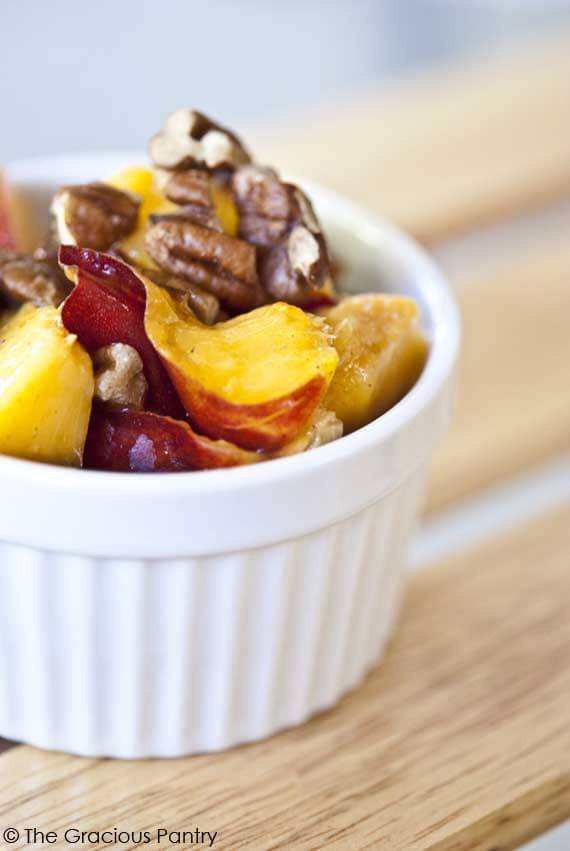 You know summer is in full swing when nectarines show up in the produce section of your local store. Growing up, nectarines were always a favorite over peaches simply because I didn't like the fuzz on peach skins. I've told the story about my grandmother and some peaches on this blog a few times. I was laying down on the couch in the living room and she was in the kitchen cutting me up some peaches. She sneezed and when she brought the bowl of peaches out to me in the living room, I didn't trust that she hadn't sneezed on the peaches, so I wouldn't eat them. She had a good chuckle at that one.
But I digress…
The sweetness of this fruit when it's truly ripe is tough to beat. Mini Chef "discovered" them this year and he's been noshing on them all summer long and you won't find me arguing! Nectarines make a wonderful snack on their own and are a fabulous addition to a fruit salad.
This simple dish has wonderful flavor and works as an amazing side dish to almost any summer meat dish (think barbecue!).
YOU MIGHT ALSO ENJOY:

Clean Eating Nectarine Pecan Fruit Salad
Author:
Ingredients
2 medium nectarines
1/4 cups raw pecan pieces, unsalted
1 light sprinkle of allspice (a little goes a long way, so be cautious.
Instructions
Cut the nectarines into chunks, removing the seed.
In a mixing bowl, combine the nectarines, pecans and the allspice.
Stir well and serve.