Clean Eating Mushroom & Yellow Pepper Scramble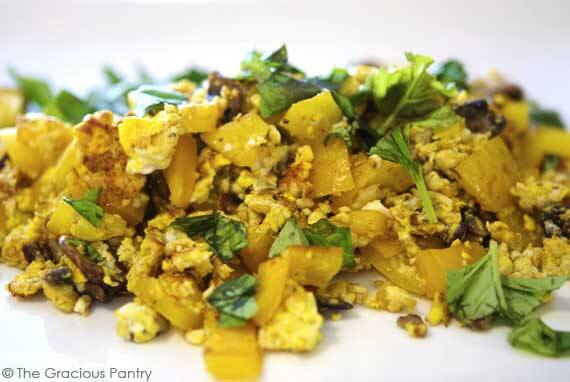 Lets face it. Mornings can be hectic. All you want to do is get out the door on time so breakfast has to be fast. Thankfully, egg scrambles are fast and easy and they'll keep you full all morning long as well. You can even chop the veggies the night before!
I try to "eat the rainbow" as they say, to get as many nutrients into my eating plan as possible. I'd have to say that this one pretty much covers the yellow, wouldn't you say? A little green and brown to go with it and you're well on your way through that rainbow! Not a bad way to start the morning!
YOU MIGHT ALSO ENJOY:

Clean Eating Mushroom & Yellow Pepper Scramble
Author:
Ingredients
3 whole eggs (or 6 egg whites)
1 medium, yellow bell pepper, chopped find
4 small cremini (brown) mushrooms, sliced
1 tbsp. olive, safflower or coconut oil
Fresh basil
Instructions
Saute all ingredients in a large skillet until everything is cooked to your liking.