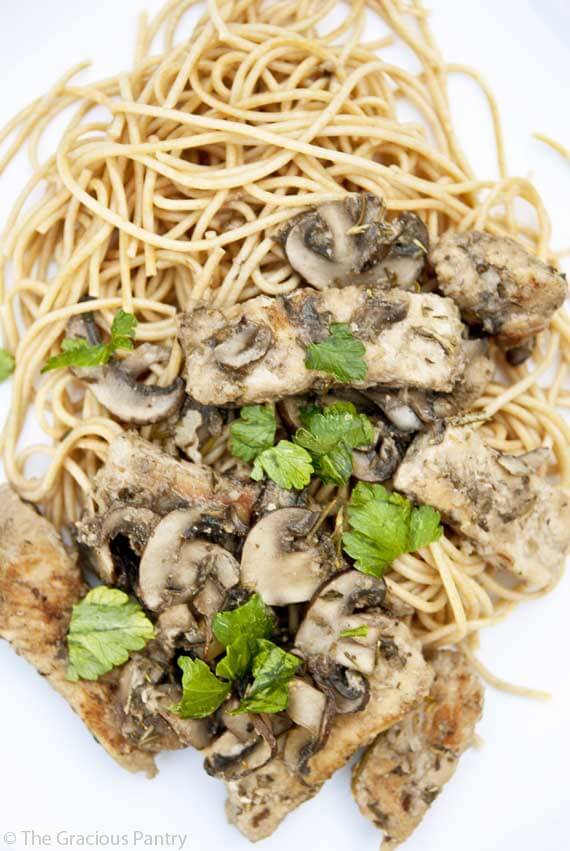 A few days ago, a reader emailed me asking about a clean version of Pork Scallopini. I had no idea what that was. (I really need to go to culinary school, don't you think?) So I did a quick google search and…
I found a wonderful recipe on the Taste of Home web site. But it wasn't clean. So of course, I just had to clean it up!
And don't let the long ingredient list scare you. This is a very simple dish to make.
YOU MIGHT ALSO ENJOY:

Clean Eating Mushroom And Rosemary Pork Scallopini
(Makes 6 servings)
Ingredients:
3 boneless pork chops, any fat removed, cut into 1-inch slices (I did strips)
1/3 cup white whole wheat flour (any whole wheat flour will work)
1 tablespoon olive oil
1 cup low sodium chicken broth, no sugar added
1 tablespoon white balsamic vinegar
1/2 cup water
1 large onion, chopped OR 4 tsp. onion powder
1 to 2 garlic cloves, minced OR 4 tsp. garlic powder
1 teaspoon pepper
1 teaspoon dried thyme
2 tablespoons fresh, chopped rosemary
1 teaspoon dried oregano
1 pound sliced mushrooms
1/2 pound cooked fettuccine (I used spaghetti), cooked to package directions
Grated parmesan for garnish
Fresh, chopped parsley for garnish
Directions:
Cook pasta according to package directions.
Put the flour in a medium bowl and roll the pork slices in it until well coated.
In a large skillet, brown the pork in the olive oil, then set aside and keep warm.
In the same skillet (do not wash it first), combine the chicken broth, water, remaining flour, onion or onion powder, garlic or garlic powder (I used powder for both), pepper, thyme, rosemary, oregano and mushrooms. Cook until mushrooms just begin to wilt.
Add pork back into the pan with the mushrooms and continue to cook over low to medium heat until the pork is fully cooked.
Ladle the pork and mushrooms over pasta, top with a little parmesan and fresh parsley and serve.