Here's why teaching kids to cook is so important: It's fun, it's educational and the memories last a lifetime!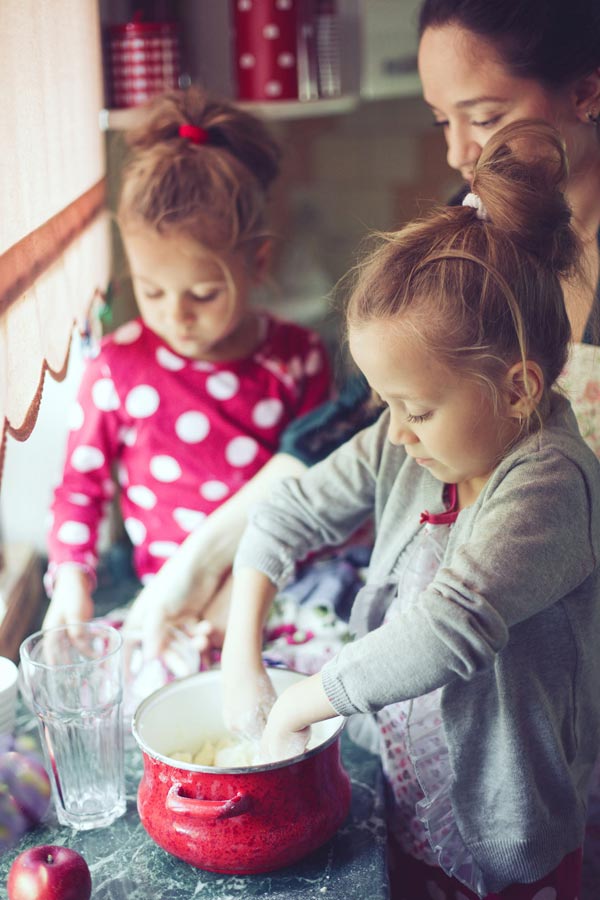 Not sure about bringing your kids in the kitchen to cook with you? Not sure if you want to deal with the extra mess or hassle? Here are the reasons I believe they absolutely SHOULD be in the kitchen with you every. single. day. Besides, you'll actually save time when they can cook for themselves, right? But lets discuss it further…
An Argument For Kids In The Kitchen
I truly believe that there are far too many children in this country that are not involved with the process of preparing food, and too many parents that don't understand HOW to teach their kids the kitchen basics.
Why Should You Bring Your Kids Into The Kitchen With You?
For several reasons.
Understanding
It gives them a connection with, and an understanding of food that they cannot get any other way. Just learning the basics of good nutrition alone is reason enough to bring girls and boys into the kitchen from a very young age.
Connections
The family bonds that are created in the kitchen and around food cannot be created any other way. Food has a way of connecting us on the most primal levels. We create lasting memories in the kitchen. From the teaching that goes on, to the open communication and story telling that inevitably ensues, bringing children into the kitchen is an act that is vital for their sense of security and sense of belonging. And in an age where we have little time for anything, it gives us as parents a fabulous opportunity to stay connected and in touch with our kids and their day to day lives.
Skills and Confidence
I'm no psychologist, but even I can see the difference in children who are and are not allowed in the kitchen.
Teaching a child to cook gives them not only some very basic life skills, but also a sense of self confidence which is sorely lacking in our youth today.
When I think back on the proud moments I had in my Mother's and Grandmother's kitchens; the time I made my first pancake and the time I packed my own lunch with food I had cooked myself. The sense of self assuredness that came with that was and is unparalleled.
It always strikes me as funny when people call me "Martha Stewart" because I can make a jar of jam, or sew myself a pair of pants.
These skills should not be so unusual in our culture. They should be the norm. It should be an unusual thing for people NOT to know how to do those things. And yet, this is not the case.
In a world where children spend a lot of time at home alone or in the care of a day care provider; in a world where both parents have to work to make ends meet; we cannot allow our children to grow up without the basic knowledge of how to care for themselves or how to understand proper nutrition.
Health
We have a huge problem with obesity in this country. It effects adults and children alike. And the less we bring our kids into the kitchen to prepare real food, the worse this problem will get.
As a nation, we relay far to heavily on convenience and fast food. We've forgotten how to heat up milk for a baby's bottle in a pot on the stove because it's second nature to pop it in the microwave (Even I'm guilty of this). How many nutrients are being killed off that way? How much nutrition are our babies not getting because we've forgotten how to use our stoves?
It amazes me how many people out there cannot cook. We get so wrapped up in our daily lives, getting things done and getting the kids to bed so we can have a little "me time" at the end of our day, that we forget to teach the basics.
We show our kids that it's okay to pop a TV dinner in the microwave when we're short on time, instead of showing them how to prepare food ahead of time for the days we are busy.
We teach them that a treat is a big bowl of ice cream, instead of a baked apple with nuts and raisins.
We keep boxes of pop tarts in the cabinet for a last minute breakfast, instead of keeping a carton of hard boiled eggs in the fridge which is just as quick to grab, and obviously a much better way for them to start their hectic day.
We start our babies off with processed goop in a jar and call it good nutrition because the company that sells it tells us so. (Did you know the government allows a certain amount of rat feces in baby food and calls it safe? You can find that information at your public library. It's public information, and yet so few people know about it!)
We give our young children chips, sodas, McDonald's and other foods that are chemically designed to make us crave more, and then we wonder why our kids won't eat their vegetables.
I urge you to include your kids in kitchen activities. No matter what their age is, there is always a way they can help. Even the smallest tasks will get them started on the right path.
Let them handle and touch real broccoli. Let them moosh their little fingers into a real tomato. Let them bite into a a head of dark green lettuce that's just been washed.
You have to let kids experience food on a very real and basic level. A mess in the kitchen is inevitable, even if it's just you doing the cooking. So don't worry so much about the mess. What's important is the experience. And if nothing else, the mess is a great way to get your kids washing some dishes  or wiping down counters! This teaches them that every member of the family needs to pitch in. Every member of the family is important to the family unit as a whole. These lessons are what create stable adults. So don't think they are less important than they really are.
An added bonus: Picky eaters will be far more inclined to try new foods if they have been involved in the preparation of it.
If you don't know how to cook yourself, buy an easy recipe book like "Cooking for Dummies" and teach both yourself and your child how to cook. It will be a fun experience for both of you, and the life lessons will be unequaled.
You will see the difference in your children today and an even bigger difference in them tomorrow.
Need Some Lesson Ideas To Get You Started?
Need Some Recipes Your Kids Can Cook?
Need More Ways To Make The Kitchen A Fun Place For Your Kids?
Here are some fun tools I found on amazon. Mini Chef has a few of these and I was surprised by how much he wanted to get into the kitchen just so he could use them. It's a great way to make the kitchen a fun place!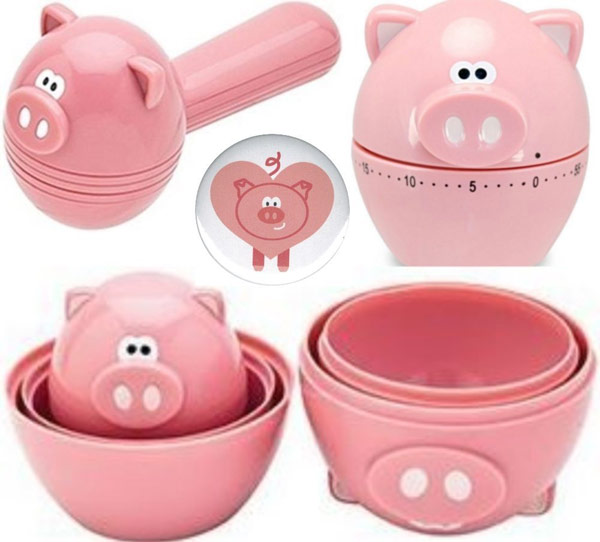 Piggy Kitchen Set with Measuring Cups
(affiliate link)
The original version of this article was published Dec 1, 2009. It has been updated and republished.