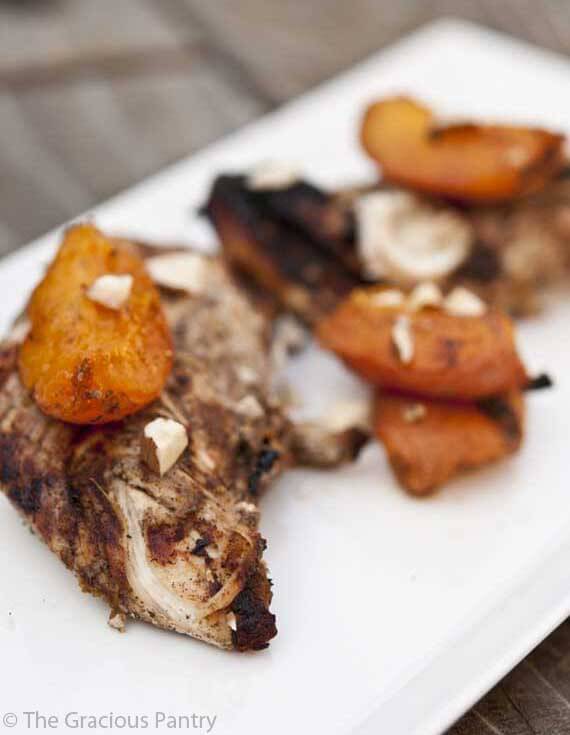 I love my grill. There's just no way to equal the flavor a grill imparts when you barbecue. It's just plain magical.
Whether you're grilling fruits, veggies or meats, you just cannot go wrong!
But I learned something valuable with this recipe. The fruit you use absolutely MUST be sweet! Otherwise, grilling it makes it taste even more sour than it was when it was raw. Trust me. Learn from my mistakes. You don't want non-sweet apricots for this. I promise.
Other than that, this was absolutely delish!

Clean Eating Moroccan Apricot Chicken Tenders
Author:
Ingredients
1 tablespoon ground cinnamon
2 teaspoons ground cardamom
1 teaspoon ground ginger
1/4 teaspoon ground black pepper
Juice of 1/2 orange
1 tablespoon honey (optional if the orange is not very sweet)
2 pounds raw chicken tenders
1 pound apricots, washed and quartered
Chopped, roasted almonds for garnish (optional)
Instructions
Place all ingredients in a large food-safe bag, mix well and let sit in the fridge for about 3 hours.
Grill as usual, but separate the apricots and the chicken on the grill. The apricots will finish cooking much quicker than the chicken. So you want to be able to remove them easily before you have an absolute mess on your grill.
Top with chopped, roasted almonds if you like.