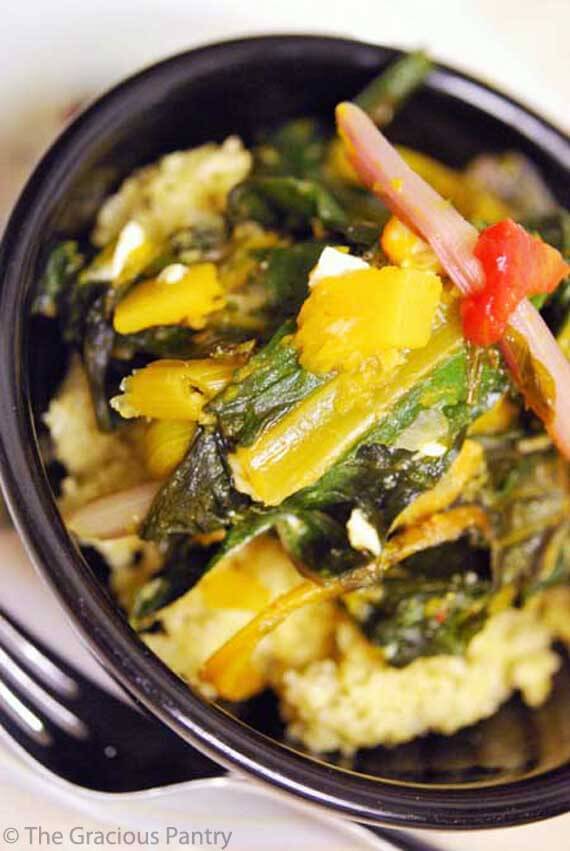 This recipe was inspired by a friend's garden. He sent home a rather large bag of mixed produce with my husband that had just been picked.
Not one to turn down a big bag of home-grown veggies, I got to work coming up with a recipe to include them all. It turned out quite tasty. Even my 2-year-old son was rather taken with it. In fact, I think he ate more of my dinner that I did!
Clean Eating Millet With Garden Vegetables
(Makes approximately – veggies: 6 cups / millet: 6 cups)
Millet Ingredients:

1 1/2 cups uncooked millet
2 cups distilled water
2 cups vegetable stock
2 teaspoons marjoram
1 teaspoon garlic powder
1 teaspoon onion powder

Garden Vegetable Ingredients:

1 large bunch chard (there's plenty of room for wiggle on the amount)
1/2 butternut squash
1 medium tomato
1/2 package organic tofu (optional)
1 cup vegetable broth
2 tablespoon olive oil
1 small bunch parsley
1 medium onion
6 cloves garlic
1 tablespoon garlic powder
Directions:

Place liquids and seasoning in pot and bring to a boil. Add millet and cook until all liquid is absorbed.
Gather all your veggies. This can be any combination of veggies you'd like. I chose a combination of veggies from our friend, as well as some in the fridge that really needed to be cooked.
Chop all your ingredients. In olive oil, saute the onion, garlic and parsley. When the onions become opaque, add the squash. Cover and cook on medium heat until the squash is soft. Add chard, tofu and tomatoes. Cook until chard is wilted and tomatoes are cooked through.
Serve. Put about 1/2 cup of millet in a bowl, and top with 1 cup of veggies!
Nutritional Content:
(Data is for 1 serving of millet and 1 serving of veggies combined.)
Calories: 378
Total Fat: 9 gm
Saturated Fats: 1gm
Trans Fats: 0gm
Cholesterol: 1gm
Sodium: 520mg
Carbohydrates: 62gm
Dietary fiber: 7gm
Sugars: 5gm
Protein: 14gm
Estimated Glycemic Load: 29
Please Note: Nutritional Information estimated at Nutritiondata.com. Data may not be accurate and is subject to the availability of specific foods in their database. Where one ingredient is not listed, substitutions must be used. Therefore, you should not refer to this data as being exact. It's more of a ballpark figure. The Gracious Pantry does not take responsibility for the inadequacies of the nutrition calculator used. This data is provided as a courtesy and general reference only. It is not exact.