This Mexican chickpea soup is nothing short of wonderful!
As I mentioned in my last post, I'm nearing the end of my culinary program as I write this. I'm cramming in the last minute recipes that we have to create for this program. They gave me an Indian chickpea recipe and I had to change the cuisine using similar ingredients.
Well, ya'll know my love of Mexican food by now, so giving that the original ingredients included cumin and cilantro, it wasn't a far stretch to turn the given ingredients into something Mexican-inspired.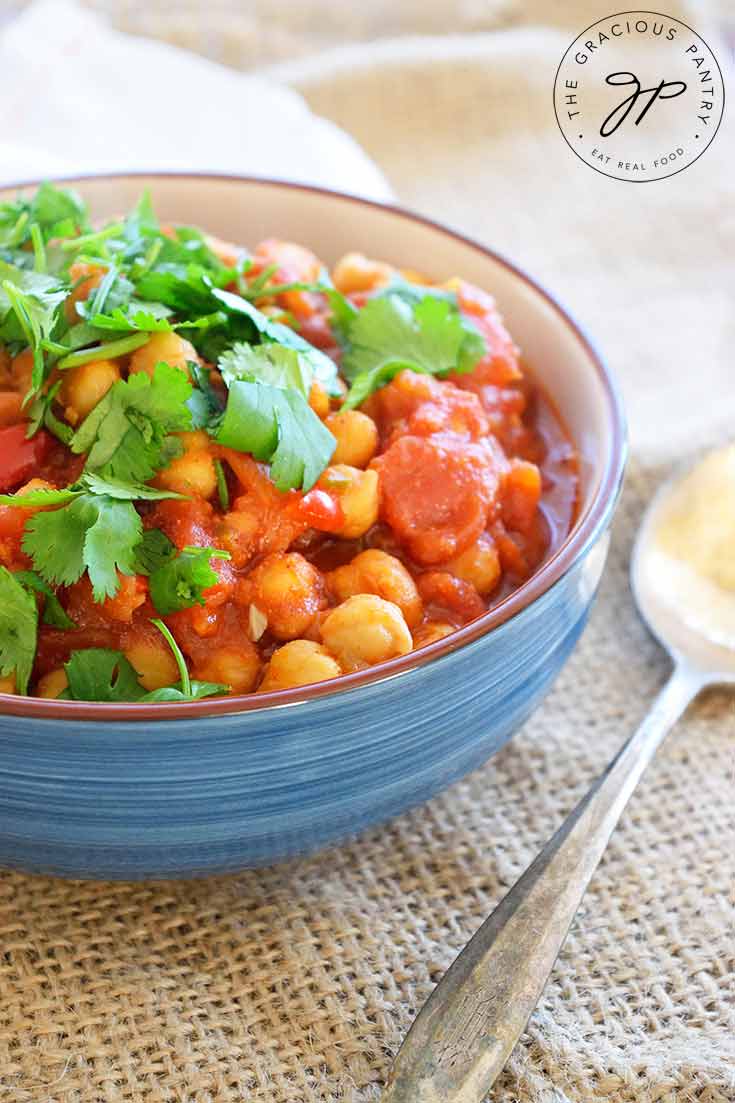 This dish is simple  to put together with easy-to-find ingredients. It just requires some stirring and attention.
RECIPE NOTES:
You get much better flavor from the beans if you soak them overnight and cook them from dry. Something about store-bought canned beans just isn't as flavorful. Plus you get MUCH less sodium if you make these from scratch.
Don't skip taking a few minutes to really roast the spices with the onions. It might be tempting to just dump everything into one pot, stir and be done with it. But skipping this step skips a ton of flavor too!
Make sure you mince your onions as small as possible. It helps them "melt" into the oil a lot better during sautéing. With this recipe, the smaller you chop/mince things, the better. Even my bell peppers in the photo below are too big. I ended up cutting them much smaller.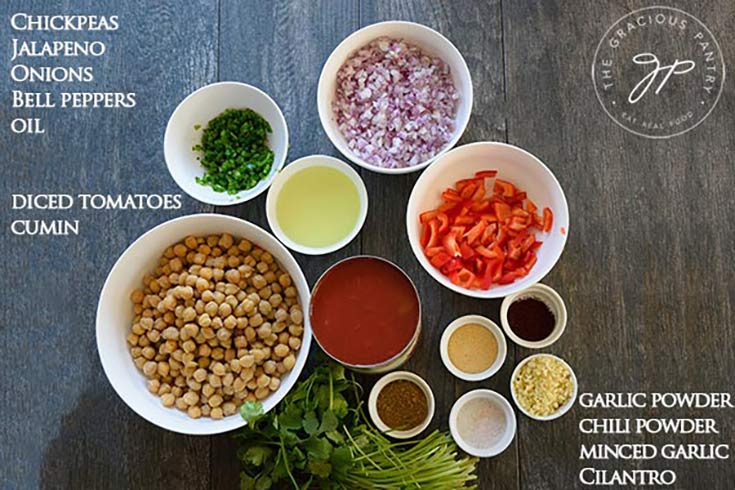 WHAT TO PAIR THIS WITH?
Enjoy as a main course and serve with a side salad.
Serve over rice for a complete-protein, plant-based meal.
Serve over chicken and veggies.
Fill some tortillas with this and brown rice for excellent, plant-based burritos or even tacos.
Remember to subscribe to my free, Gracious Pantry Newsletter to receive all my latest recipes in your inbox! Click here to sign up!
MORE HEALTHY RECIPES:
Enjoy!

MEXICAN CHICKPEA SOUP RECIPE: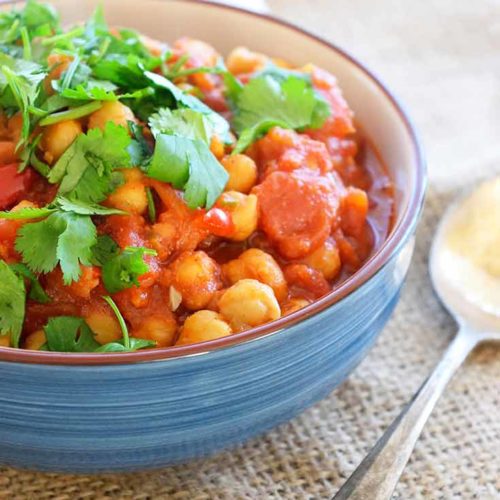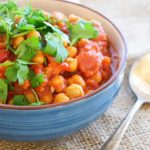 Mexican Chickpea Soup
A delicious, simple dish you can eat alone or served over brown rice for a very filling meal.
Course:
Legumes, Main Course
Cuisine:
American, Mexican
Ingredients
1/4

cup

olive oil

2

cups

minced red onion

1/2

tsp.

salt

6

medium

garlic cloves

(minced and mashed)

2

medium

jalapeno peppers

(minced)

1

tbsp.

ground cumin

1

tbsp.

garlic powder

1

tsp.

chili powder

1

cup

finely chopped red bell pepper

28

oz.

can diced tomatoes

4

cups

cooked chickpeas

1/3

cup

water

1/4

cup

fresh, coarsely chopped cilantro
Instructions
Warm a large, heavy-bottomed pot over medium-low heat.

Add the oil and allow a few minutes for it to warm up.

Add the minced onion and salt.

Cook for approximately 20-30 minutes, stirring occasionally. The onions should be golden brown and almost "melting" into the oil. They should be very soft.

Add the garlic and the jalapeño peppers and cook for about one minute, stirring constantly.

Then stir in the cumin, garlic powder and chili powder. Stir and cook for about 1 minute more.


Add the bell pepper, tomatoes, chickpeas and water. Raise the heat to bring everything to a boil, and then immediately reduce heat to low.

Place a slightly vented lid on the pot and simmer as low as possible for about 20 minutes, or until most of the liquid is evaporated and you are left with a nice stew consistency. The lid should only have a small vent as shown here.


Once done, remove from heat and serve alone or over brown rice, garnished with fresh cilantro.
Recipe Notes
Please note that the nutrition data given here is a ballpark figure. Exact data is not possible. Note that the sodium content will come way down if you cook the chickpeas from dry beans at home and use low sodium, diced tomatoes.
Nutrition Facts
Mexican Chickpea Soup
Amount Per Serving (1 cup)
Calories 331
Calories from Fat 108
% Daily Value*
Fat 12g18%
Sodium 379mg16%
Potassium 786mg22%
Carbohydrates 45g15%
Protein 12g24%
Vitamin A 1280IU26%
Vitamin C 50.5mg61%
Calcium 138mg14%
Iron 6.6mg37%
* Percent Daily Values are based on a 2000 calorie diet.