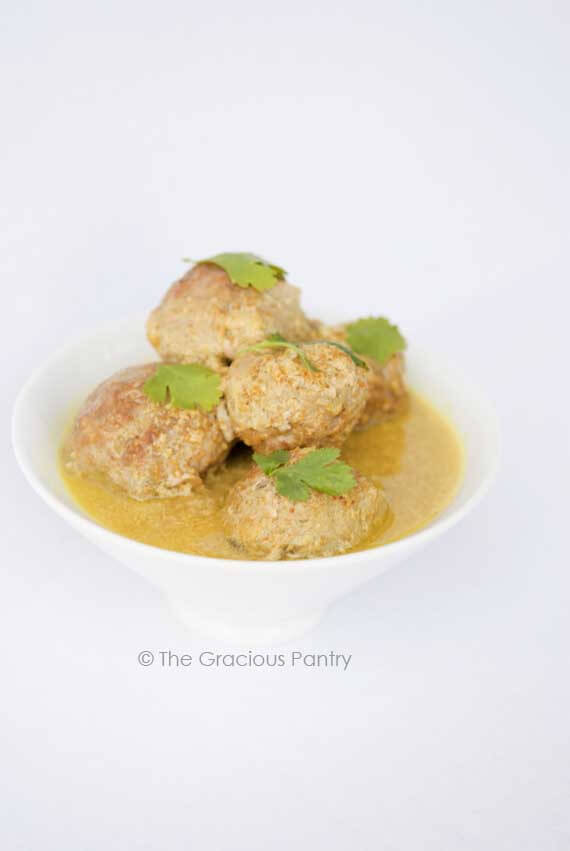 I love meatballs. They can be a comfort food all by themselves, especially if they have a good sauce.
I've been in the mood for lots of curry lately, so I thought I'd take a crack at making a curry meatball. They were awesome! Well, I thought so anyway. Mini Chef doesn't care for anything with curry. He doesn't care for anything spicy at all, actually. So I had these little goodies all to myself.
FOR REGULAR CLEAN EATING
Use lean ground turkey and serve over brown rice with a side of veggies. If you want to cut down on the fat, you can use light coconut milk, but the sauce will be far more watery.
FOR LOW CARB CLEAN EATING
Serve over cauli-rice or eat them by themselves with a side of low carb, low starch veggies.
YOU MIGHT ALSO ENJOY:

Clean Eating Curry Meatball Casserole
Author:
Ingredients
1 (15 ounce) can full-fat coconut milk
1 tablespoon garlic powder
1 tablespoon curry powder
1/2 tsp. turmeric
2 lb. ground turkey
1 large, red onion, chopped
Salt to taste after cooking
Instructions
In a large casserole dish (mine was x ), whisk together the coconut milk, garlic powder, curry powder and turmeric. Set aside while you make the meatballs.
In a large mixing bowl, combine the turkey and onions. Knead well and then form meatballs about the size of golf balls.
Place the meatballs in the sauce. It's okay if they fit a big snug.
Bake at 350 F. for about 45 – 55 minutes or until their internal temperature reaches a minimum of 165 F.
Allow to cool and serve over cauli-rice or brown rice.