This clean eating margarita chocolate truffle tart is sure to please this Valentine's day!
Tarts have always seemed like a lot of work to me. And in truth, many of them can be. But I'm all about simplicity and easy-to-find ingredients. I don't know about you, but I have a busy life. Spending hours upon hours on one recipe just seems silly to me. Even for the sake of clean eating. So I do what I can to make difficult things easy in the kitchen.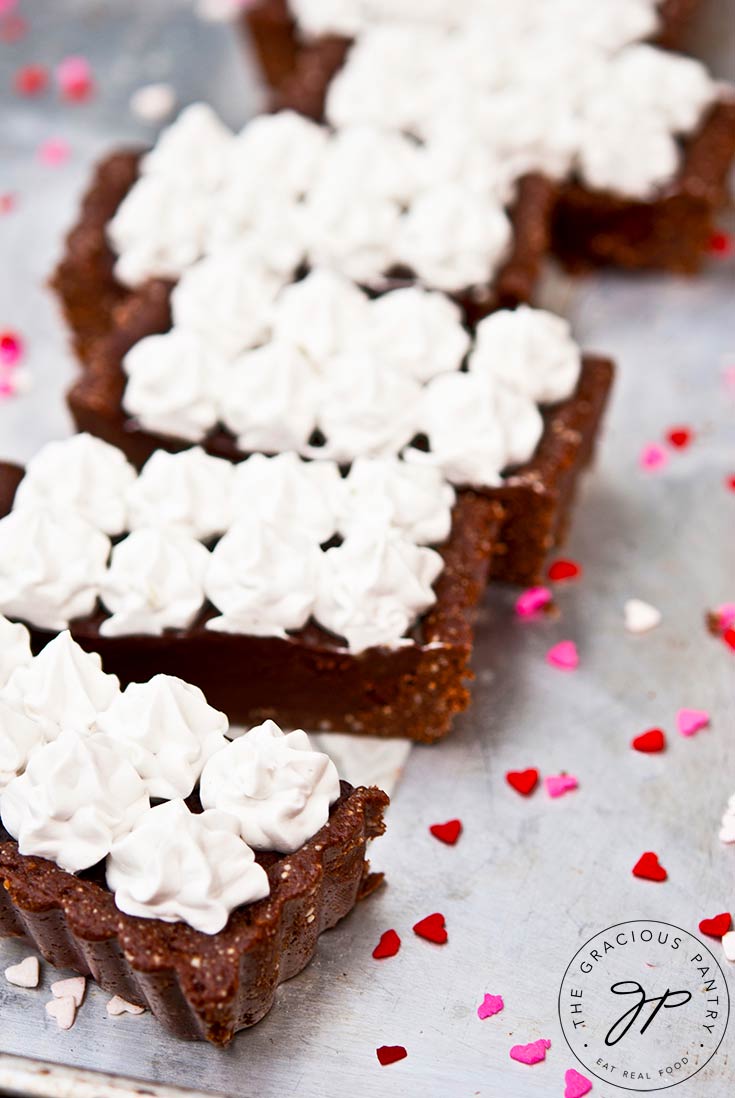 This rich, grain-free, dairy-free chocolate tart is perfect for Valentine's Day. It's simple to put together, and uses ingredients you can find at any grocery store. It's an easy-breezy way to impress your significant other or friends and family for this day dedicated to love. And lets face it, you can't go wrong when you "put da lime in da coconut"!!
Just remember to cut your slices thin. Rich flavors come with rich calories! This is definitely a special occasion treat.
Options:

Make it over a 3-day period. Believe it or not, this actually makes things much easier. You will only be spending about 10-15 minutes in the kitchen per day and can even leave a few days in between if you get busy. This is definitely a good, make-ahead recipe!
Make it 1 day. If you prefer to make this in one day, simply make the crust, add the ganache and then store it in the fridge to firm things up for at least 2 hours. Top with whipping cream before serving. Just be sure you have had some cans of coconut milk in the fridge ahead of time (see recipe notes).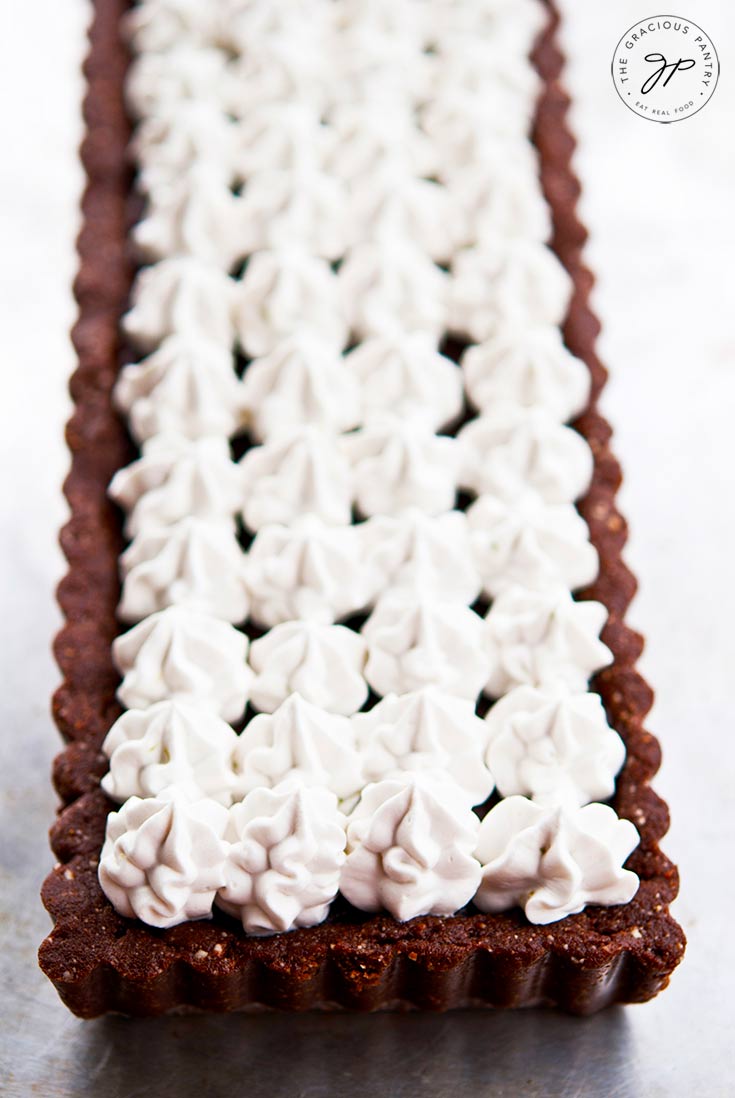 Recipe notes:
Remember to put 2 cans of full-fat coconut milk in the fridge at least 3 days before making this. Otherwise, you won't have your coconut cream ready to go when you need it! You may only use 1, but you can never tell how much cream will be in a single can, so it's best to have a backup.
PLEASE SEE PHOTOS BELOW RECIPE.
Tart Pan size: 4 x 14.5 x 1
I got mine at Sur La Table. But if you can't get one there, you can find it on Amazon here.
YOU MIGHT ALSO ENJOY THESE CLEAN EATING RECIPES:
Enjoy!

CLEAN EATING MARGARITA CHOCOLATE TRUFFLE TART: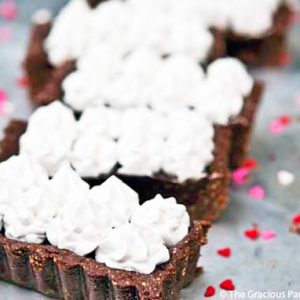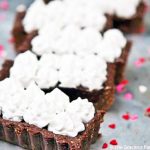 Clean Eating Margarita Chocolate Truffle Tart
A deliciously decadent dessert to share with your sweetheart.
Ingredients
CRUST INGREDIENTS:

1/2

lb.

raw cashews

3

tbsp.

unsweetened cocoa powder

3

tbsp.

honey

1

tbsp.

fresh lime juice

GANACHE INGREDIENTS:

1/2

lb.

unsweetened chocolate

(chopped fine)

1/2

cup

full-fat coconut milk

5

tbsp.

honey

1

tsp.

pure vanilla extract

2

tbsp.

coconut oil

WHIPPED CREAM INGREDIENTS:

1

cup

coconut cream

3

tbsp.

honey

1

medium

lime

(zest only)

OTHER INGREDIENTS:

3

(15 oz.) cans

full-fat coconut milk

(2 for the refrigerator and 1 for using in the recipe (this includes what is listed above.)
Instructions
Place all the crust ingredients in a food processor and blend until you have a nice, pliable "dough". You will notice that as your processor blends, you will eventually get to a point where there is a noticeable line between the very blended mixture on the bottom and the mixture that is still a bit more coarse on top. When you reach this point, the crust is nearly finished blending. The goal is to have a moldable dough. This can take up to 5 minutes or more of processing.

When the processing is finished, scrape the dough out into a parchment lined tart pan and using your fists and fingers, flatten the dough and mold it up around the sides. This will take you about 5-10 minutes. Place this in the refrigerator overnight, or temporarily while you make the ganache. It's best to keep the tart pan on a cookie sheet for easy transferring in and out of the refrigerator.

Place the finely chopped chocolate in a medium mixing bowl and set aside.

Set the crust near you as you work, but away from any heat.

This process will take you about 5 minutes if your chocolate is already chopped. In a small sauce pot, heat the coconut milk, honey and coconut oil until it's hot, but not boiling. Stir constantly to avoid boiling the milk. Pour the hot milk over the chocolate and stir until you have a smooth, thick but fluid ganache. There should be no lumps of chocolate left. Pour the ganache immediately into the crust, smoothing the top as best you can. Set in the refrigerator overnight or for at least 2 hours to set the ganache.

WHIPPED CREAM DIRECTIONS:

In a medium to large mixing bowl, use an electric mixer to blend the coconut cream, lime zest and honey together until you have a smooth, thick whip cream. Transfer to a cake bag and decorate the top of your tart.

Store the finished tart in the refrigerator until you are ready to serve.

Note on the coconut cream: If you have kept your can(s) of full-fat coconut milk in the refrigerator for at least 3 days, you will find the cream has solidified on the top when you open the can. Scoop this out into your measuring cup, making sure to avoid the coconut water left at the bottom of the can. Any coconut water that ends up in your mixing bowl will thin out the whipping cream, making it runny and difficult to use with a cake bag.

Recipe Notes
Please note that the nutrition data given here is a ballpark figure. Exact data is not possible.
Nutrition Facts
Clean Eating Margarita Chocolate Truffle Tart
Amount Per Serving (1 inch-thick slice)
Calories 485
Calories from Fat 405
% Daily Value*
Fat 45g69%
Sodium 20mg1%
Potassium 566mg16%
Carbohydrates 25g8%
Protein 8g16%
Vitamin C 2.5mg3%
Calcium 46mg5%
Iron 8mg44%
* Percent Daily Values are based on a 2000 calorie diet.