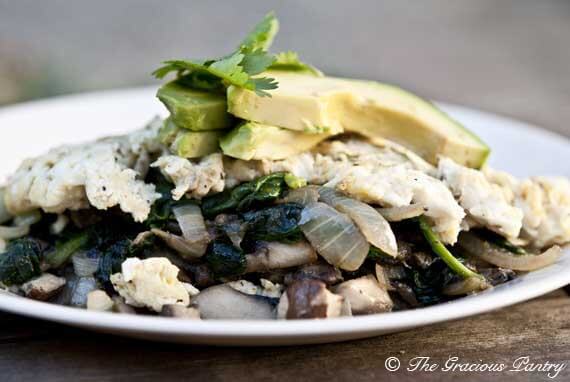 I don't talk a lot about my husband on this blog. Mainly because this is a recipe blog, and he doesn't do any of the cooking.
You see my husband is one of those guys who could burn water. He just never learned to cook. But there is one thing, and one thing only that he can cook that puts to shame anything I can do in the kitchen.
Omelets.
He makes the most amazing Omelets ever. I swear, there's just nothing like them.
So after more than 6 years of marriage, I finally decided to take notes on what he was doing. I then tried it myself and did everything exactly the same way he did. It was definitely tasty, I'll say that much. If it wasn't, I wouldn't be sharing it here. But his are still better. I swear he has some secret ingredient he's keeping from me.
Some day I'll catch him with it. Some day….
YOU MIGHT ALSO ENJOY:

Clean Eating Man's Omelet
(Makes 1 omelet)
Ingredients:
2 whole eggs
4 egg whites
2 cups (tightly packed) fresh spinach
1/4 pound crimini mushrooms, sliced
3 green onions, sliced fine
4 shakes black pepper
1 teaspoon garlic powder
3 teaspoon olive oil
Directions:
This is a 2 part process. Have a plate handy.
Using only 2 of the 3 teaspoons of oil, saute the spinach, mushrooms and onions. Add about half of the seasonings to the vegetables. When done, transfer the cooked veggie mix to that plate I mentioned above.
In the same pan, and using the 3rd tsp. of oil, scramble the eggs and form in to a flat pancake of cooked eggs in the pan.
Transfer the veggies back on to the eggs and fold the eggs over to create your omelet.
Serve with clean salsa.
NOTE: If you want to use cheese, melt it in to the omelet before putting the veggies on. Also, if the fat and/or cholesterol are an issue for you, do this entire recipe with 8 egg whites instead.