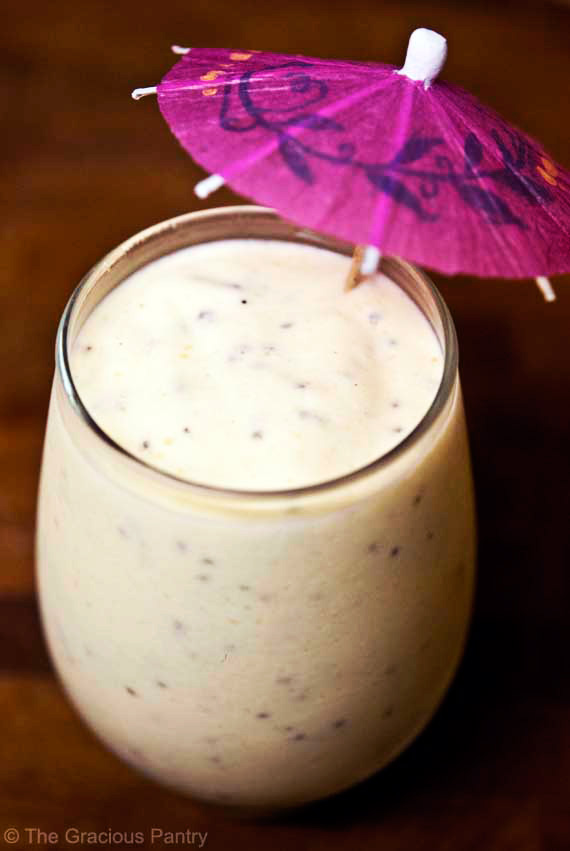 Mango and chia seeds are both considered Super Foods, and for good reason. Mango packs a nutrient wallop while the chia seeds provide more Omega-3's than flax seeds! How's that for getting your day started on the right foot?
I really debated whether I should put this in the smoothie category, or the dessert category. It's that good! It's definitely a smoothie, but with the flavor of dessert. No arguments from Mini Chef on that one!
I put chia in all my smoothies these days. I love the little bits of crunch and I feel really good about giving Mini Chef all that extra nutrition! This smoothie could very well be my new best friend in the "I-have-to-feed-him-something" department. Funny how you raise them, cloth them and put a roof over their heads, and then they want you to feed them too! Imagine!
YOU MIGHT ALSO ENJOY:

Clean Eating Mango Chia Smoothie
Author:
Ingredients
2 cups frozen mango, no sugar added
1 cup milk
1 cup low fat cottage cheese
1 tablespoon chia seeds
Clean sweetener of choice (try honey, stevia, or maple syrup)
Instructions
Place all ingredients in blender and blend until smooth.