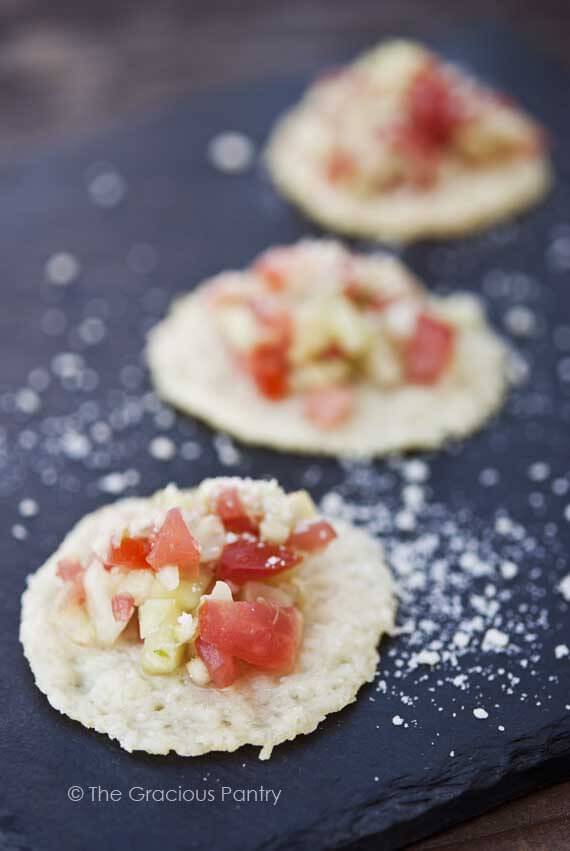 Bruschetta is fabulous stuff. It's delicious, indulgent and satisfying in a way that only Italian food can be.
Dairy is not my friend. But as I head down the clean eating low carb road, I'm realizing that on occasion, I can have little bits here and there without suffering. Mind you, I'm talking about a bite or two, tops. But still, I get to enjoy a small amount of dairy and that makes me happy.
These are a perfect appetizer to serve at parties, get-togethers and even to put in your lunch. I topped mine here with my Clean Eating Cucumber Salsa recipe and it was amazing! But you could also go the more traditional method of using chopped tomatoes and basil. Although, for many of you, I recommend avoiding adding additional olive oil like you might with a traditional Bruschetta simply because the cheese already has so much oil in it. But if you eat low car/keto and want the fat, go for it! It's tasty!
I should mention that when making these, they melt pretty much the way you put them on the pan. Here's an example:
This is what it looks like if you use a loose tablespoon of cheese to scoop it onto the baking sheet.



They turn out lighter and crispier and a bit more crumbly.
This is what it looks like if you pack the cheese down into tablespoon and then pop it out onto the baking sheet.



These turn out a bit more dense and chewy. Though you can always bake them longer to get them a bit more crisp.
As you can see either way works well. But the looser version would be a bit tougher to put toppings on because it crumbles far easier. The choice is yours.
Just be sure that you purchase a block of the real stuff and grate it yourself. The flavor is so much better and the cheese will actually melt properly. The prepared stuff just doesn't melt the same way.
YOU MIGHT ALSO ENJOY:

Clean Eating Low Carb Bruschetta
Author:
Ingredients
Hand grated, fresh parmesan cheese, as much as you like
Topping of choice
Instructions
Preheat your oven to 350 F and cover a baking sheet or two with parchment.
Place your 1 tablespoon mounds of cheese on the baking sheet (they won't spread much, so you can line them up somewhat closely).
Bake for approximately 10 minutes or until they are melted.
Allow to cool for a few minutes and then use a thin spatula to scrape them up and transfer them to a cooling rack. Store in an air-tight container in the fridge for up to 5 days.
When you are ready to serve, simply top them with your favorite bruschetta topping and serve!