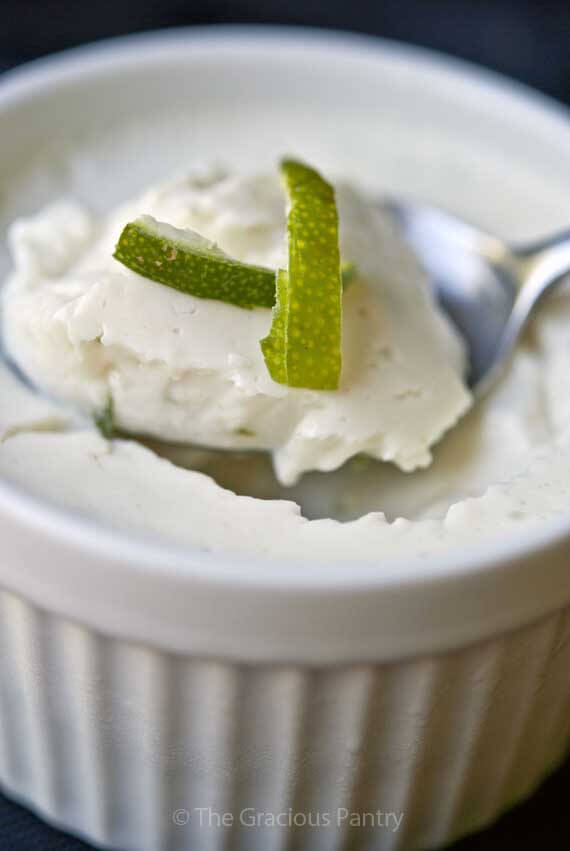 Have you ever wished you had a clean, on-the-fly dessert you could whip up? I'm here to tell you, I've solved your problem!
Oh my goodness gracious. There are just some dessert recipes that defy description. But I'll give it my best shot.
It's soft, creamy and really decadent. I think you'll be amazed when you bite into this "pot of cream". It's absolutely sinful!
Plus, short of whipping out a bottle of the spray-on, processed whip cream and tossing it to your family at the table, this is one of the easiest recipes you'll ever make. It's seriously simple!
You can easily substitute lemon for the lime if you prefer. But I've tried both, and lime is definitely my favorite!
I got the original recipe from one of those free magazines you get at the health food store. It's called DeliciousLiving and I found it at Whole Foods. It wasn't too hard to convert to a clean eating version either.
And with all the delicious temptations out there, isn't it nice to know you can come home to a sweet treat that won't put on the pounds?
YOU MIGHT ALSO ENJOY:

Clean Eating Lime Pot De' Creme
(Servings will depend on size of chilling-bowls used. I used 4 oz. ramekins and got 8 of them)
Ingredients:
1-1/2 teaspoon unflavored gelatin
1 cup milk
1 teaspoon vanilla extract
1/3 cup honey
1 cup buttermilk
1 cup Greek yogurt
Zest of one lime
Directions:
In a medium-sized pot, begin warming your milk and vanilla.
As it's warming, quickly whisk in the gelatin, being sure to whisk well enough to dissolve any clumps.
Just when the milk mixture starts to bubble around the edges, remove pot from heat and set aside.
In a large mixing bowl, whisk together your honey, buttermilk, yogurt and zest.
Once the milk mixture has cooled slightly, add it to the mixing bowl, whisking well in the process.
Divide mixture into small dessert bowls or ramekins.
Place dessert bowls or ramekins in the fridge to chill for at least 3-4 hours. Overnight is best.