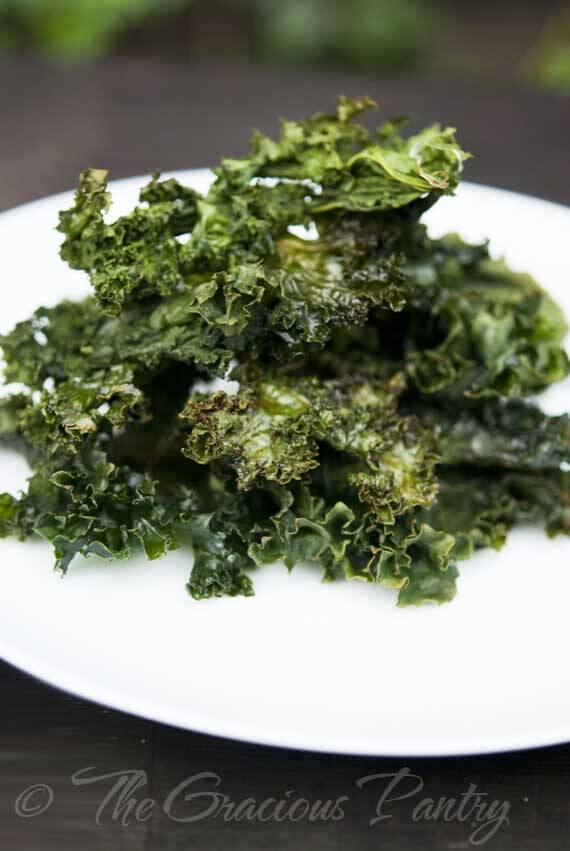 Goodness me, have I been missing out!
For me, Kale was always that green "stuff" that came on my plate for decoration in a restaurant. I certainly never ate it.
Then, a while back, I tried my hand at eating a raw diet. I thought I'd get all creative and impress my husband who had promised to try this new way of eating with me. I decided to make raw "burritos" from a video recipe I found on youtube. I made the filling, which was actually very good, and then wrapped it all up in raw kale leaves.
I think I broke a sweat forcing myself to eat the whole thing. Raw kale does NOT a good dinner make (at least not in my humble opinion).
So when I started hearing all this fuss over kale chips, I rolled my eyes and looked the other way. I mean, there is just N.O. W.A.Y. kale could possibly taste good. I didn't care how it was cooked or roasted or seasoned. There was just N.O. W.A.Y.!
Long story short, I finally gave in to all the chatter and buzz I kept reading from other bloggers. Yes, I admit it, I gave into peer pressure. I'm not proud of it, but I sure am grateful!
Kale chips are amazing little doo-hickies!! I LOVE these things! And amazingly enough, so does my munchkin (he's getting hard to please these days, so I was ecstatic!). And they are so very simple to make. Here's how to make the basic chips along with a couple variations.
YOU MIGHT ALSO ENJOY:

Clean Eating Kale Chips
Ingredients:
1 cup kale (approximate)
1 teaspoon olive oil (approximation of what comes out of the oil sprayer)
Variation
1/2 teaspoon garlic powder (optional)
1 tablespoon cider vinegar (optional)
Directions:
Preheat oven to 375. Line cookie sheets with parchment paper.
Wash and dry your kale.
Using an oil sprayer, spray the kale with a light mist of oil. If you don't have an oil sprayer, simply drizzle it on as evenly as possible or rub it on. Some say massaging it in makes for better chips. But frankly, I need a massage more than I kale does, so I just spray it on.
The above two steps will give you the basic kale chips. If that's what you want, pop these puppies in the oven now for about 15-20 minutes. But keep a close eye on them so they don't burn. They go from perfect to charcoal very quickly.
If you want flavor, either sprinkle on garlic (after spraying the oil), or sprinkle on vinegar (for a "salt and vinegar" chip flavor). Then place in the oven as directed in step 3.
UPDATE: A friend mentioned a technique she had found at Just Eat Real Food (on facebook) for making kale chips that was a fail-proof way to make them without burning them. I haven't tried it myself yet, but I intend to. Here's that method:
Heat your oven up to 425F, get the kale ready (washed, shreddded, spun, coated with fat & salted or seasoned) then the minute you put the kale into the oven turn the oven OFF. Let the kale sit in the oven for 15-20 minutes. Result: perfect evenly cooked crisp kale chips. Nothing burned.