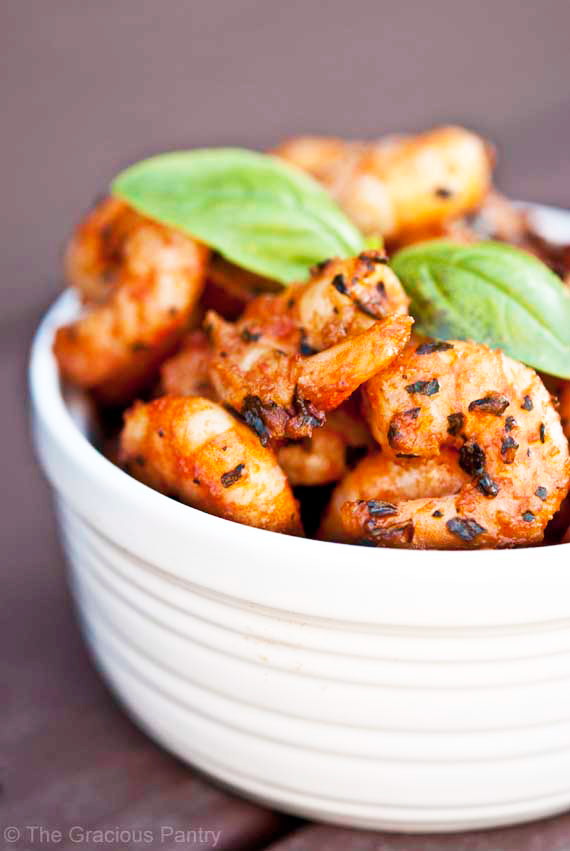 I think by now, most of you know that I'm a big fan of shrimp. I can't cook a non-rubbery piece of fish to save my life. But I can cook a fantastic plate of shrimp! ~She says ever so modestly…~
The best part is that this dish comes together so quickly. It's wonderful as a stand-alone dish, but would also be equally good over a plate of pasta or spaghetti squash for low carb folks.
The flavor of the shrimp and sauce are the stand-alone star here, so whatever you pair this with, let the shrimp be the main highlight of the evening.
I paired this with a green salad and some Clean Eating Italian Dressing. A wonderful addition would also be some whole grain garlic bread. Yum! Now I'm hungry again…
YOU MIGHT ALSO ENJOY:

Clean Eating Italian Style Shrimp Recipe
Author:
Ingredients
1 pound frozen, pre-cooked shrimp
1 tablespoon dried basil
1 teaspoon garlic powder
2 tablespoons tomato paste, no sugar added
1 tablespoon olive oil
Instructions
Place all ingredients in a skillet and cook until the shrimp are warmed through, stirring regularly.
Note: The measurements above are only suggestions. You can easily adjust all the seasonings to suit your own tastes.