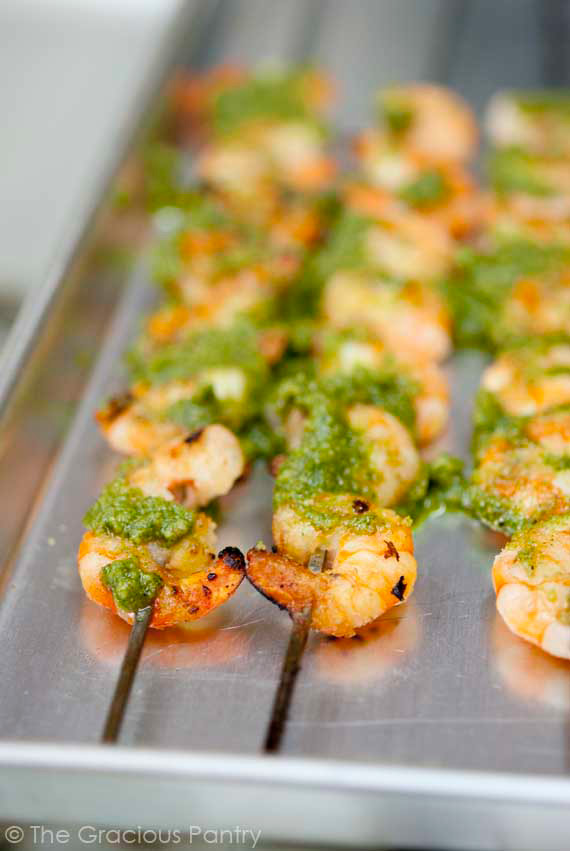 You can't go wrong with shrimp. Especially when you cook them on the barbecue. Add a little sauce and you've got a recipe for a fabulous dinner.
But this is even more the case when you get pesto involved. Particularly, Cilantro Pesto. This type of pesto is now my favorite, and it's absolutely perfect for brushing on grilled or barbecued shrimp!
I put mine on skewers to make the job easy, brushed on a little pesto right after grilling and presto! Complete deliciousness!
YOU MIGHT ALSO ENJOY:

Clean Eating Barbecued Shrimp with Cilantro Pesto
(Makes 4 servings)
Ingredients:
1 pound pre-cooked shrimp, thawed if frozen
3 tablespoons olive oil
2 tablespoons garlic powder
1/2 cup Cilantro Pesto
Directions:
Combine the shrimp, olive oil and garlic powder in a food-safe bag and shake it around to coat the shrimp with the garlic and oil. Let sit in the fridge for at least 1 hour, more is better.
Put your shrimp on the skewers and place on the grill. Remember, they are pre-cooked. So just a few minutes on each side is more than enough to warm them in most cases. Don't overcook them.
Using a pot holder, transfer the skewers to a heat-safe surface, and baste the shrimp with pesto.
Cool slightly and serve.