Clean Eating Green Quinoa (Basil Pesto Quinoa)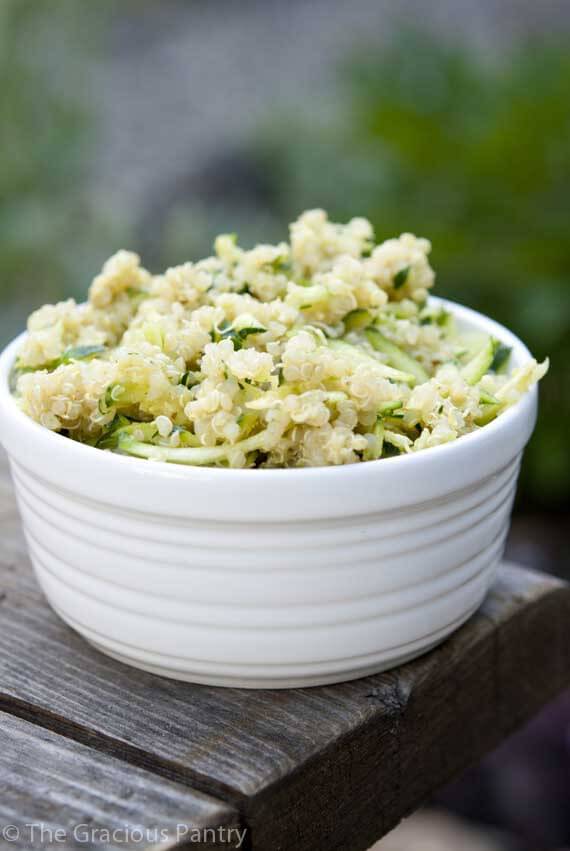 No, I didn't create a green quinoa hybrid. But I did create a delicious quinoa salad!
When I was a kid, I always asked my mom if she could make me "green noodles". I LOVED green noodles! They were my favorite. A big, saucy bowl of pasta and basil pesto would make me a happy girl on just about any occasion.
But then I grew up and so did my metabolism. A big bowl of pasta is just no longer an option. BUT, that doesn't mean I can't still enjoy it.
In fact, I have found that quinoa, for me personally, is a much better option than pasta. So this salad is a perfect fit for me, and I still get to enjoy all the wonderful flavors of basil pesto!
YOU MIGHT ALSO ENJOY:

Clean Eating Green Quinoa
(Makes 7 servings)
Ingredients:
4 cups cooked quinoa, cooked to package directions
4 cups grated, raw zucchini
1/2 cup prepared or homemade basil pesto
1/4 cup grated parmesan cheese
Directions:
In a large mixing bowl, stir all ingredients together until well combined and serve.