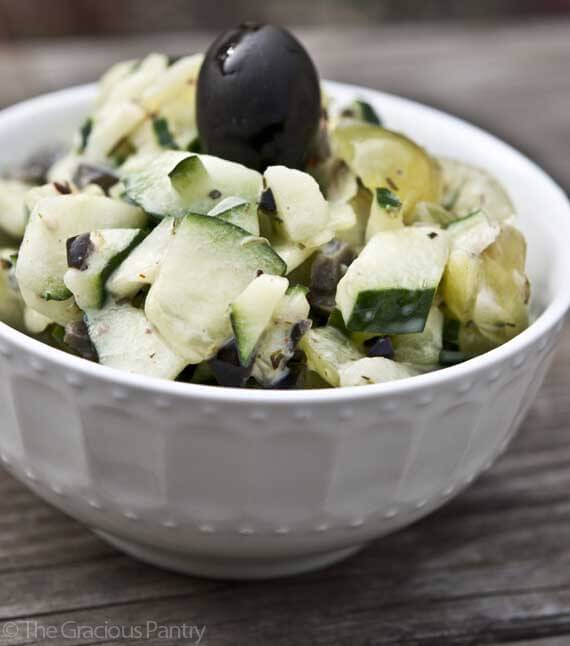 My hatred for cucumbers is pretty much unwavering and goes back to my early childhood. Even as a little girl, I left a large space between me and any veggie platter that included them. But now that I'm older, I'm trying really hard to like foods that I may not have liked in the past. And I'm finding that the dislike of certain foods really has a lot to do with how they are prepared.
As a girl, I was always given veggies with a blob of yogurt dip on a good day, and without the blob on a bad day. And while I learned to like the blob, I never could convince myself that cucumbers were the way to go, even when the blob was involved. I'd eat bags of carrots and celery, I'd eat bowls of salad with tomatoes and other veggies and would even choke down some broccoli when it was required. But I drew the line at cucumbers. That was just asking too much.
Sadly, that dislike has stayed with me, and by now you may be wondering why I made this cucumber salad in the first place.
The truth is, I was talking to somebody about cucumbers the other day (because I typically just stand around having casual conversations about cucumbers, don't you?) on Facebook and she mentioned that homegrown cucumbers were a completely different experience than the store bought variety.
This conversation must have stayed with me somehow, because when I did my shopping this week, I found myself putting cucumbers in my basket with no idea of what I was going to do with them.
Thankfully, my creativity was flowing when I got in the kitchen and I ended up with this wonderful salad. And while I may end up peeling the cucumber next time to avoid any bitterness, I have to say that I actually enjoyed this salad. So from now on, if I absolutely MUST eat a cucumber, at least I know I can enjoy it via this recipe. And maybe, just maybe, I might try growing some of my own this year.
YOU MIGHT ALSO ENJOY:

Clean Eating Greek Cucumber Salad
(Makes approximately 2 1/2 cups)
Ingredients:
2 cups chopped cucumber (peel if desired)
1/4 cup finely chopped black olives
1/3 cup chopped green grapes
1/4 cup non-fat, plain Greek yogurt
1 1/2 teaspoons Greek seasoning (you can find this in the spice aisle at most main stream grocery stores)
1/2 teaspoon white balsamic vinegar (other vinegars will work too)
Salt to taste
Directions:
In a medium mixing bowl, mix the cucumber, olives and grapes.
Mix the yogurt, vinegar, Greek seasoning and a bit of salt to taste in a small mixing bowl and set aside.
Combine everything and mix well.