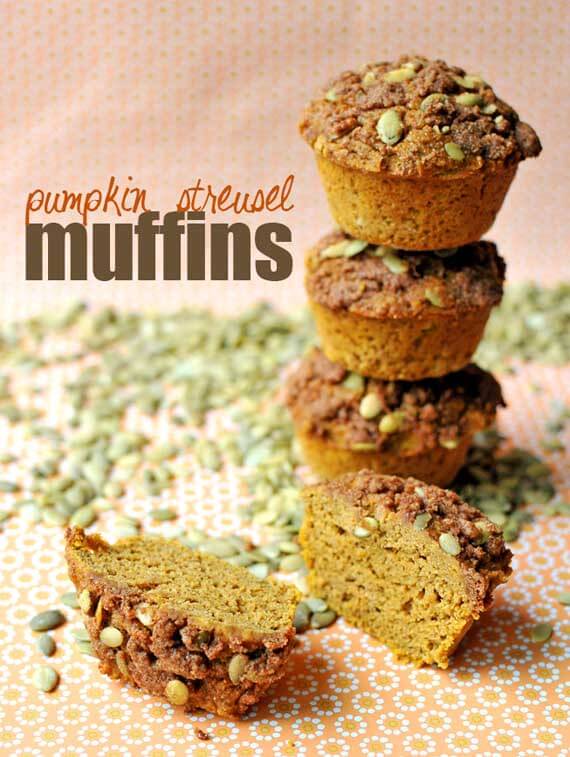 To all of you wonderful Gracious Pantry readers / clean-eaters, good morning! Tiffany was so gracious to let me share a recipe with you today.
Before we dive into Clean Eating Pumpkin Streusel Muffins, let me introduce myself. I am Kelly, the author, photographer, and recipe developer over at Nosh and Nourish.  I lost 50 pounds almost 2 years ago by redefining "normal" for myself and my family: more veggies, smaller portions, and less processed food. It wasn't about "dieting" for me, but relearning how to eat nourishing foods that would fuel our everyday activities.
My cooking philosophy is to add in nourishing ingredients that might not typically be included– in order to boost vitamins and antioxidants, whilst maintaining delicious flavor.
Sweetened with banana and coconut sugar and moistened with greek yogurt instead of butter or oil, these muffins are no exception.  Nourishing AND Delicious?! Yes, please!!
Nothing says "fall" quite like dense, moist, pumpkin-flavored baked goods.  One of my guilty pleasures used to be the 400 calorie per slice pumpkin bread at Starbucks. Not clean! Not healthy! Not good for my waistline! But, they were sooooooooo delectable. Well, as a pumpkin lover, I can emphatically say, "these muffins are even better!"
The streusel topping with raw pumpkin seeds adds protein, potassium, and some healthy fat, while also providing the perfect crunch.
These muffins happen to be gluten-free because I used brown rice flour, but you'd never know. You could also substitute my other baking favorite: whole wheat pastry flour, if you prefer.

Clean Eatin Gluten Free Pumpkin Streusel Muffins
Yield: 12 muffins
Ingredients:
1 3/4 cup Brown Rice Flour
1 1/2 teaspoon Baking Powder
1/2 teaspoon Salt
2/3 cup Coconut Sugar
2 teaspoon Cinnamon
1/2 teaspoon Ground Ginger
1/4 teaspoon Ground Cloves
2 Eggs
1/2 cup Plain Greek Yogurt
2 tsp Vanilla
3/4 cups Pureed Pumpkin
1 Ripe Banana, mashed
Streusel
Ingredients:
2 tablespoons Brown Rice Flour
2 tablespoons Organic Butter
2 tablespoons Coconut Sugar
1 teaspoon Cinnamon
2 tablespoons Pumpkin Seeds
Directions:
Preheat oven to 400 degrees.
Mix together all muffin ingredients in a large mixing bowl.
Rub some butter into the cups of a muffin tin, then sprinkle with some flour — so the muffins don't stick.
Fill each muffin cup 2/3rd full.
Mix together the streusel topping.
Spoon and lightly press the streusel onto the top of each muffin.
Bake for 20 minutes.