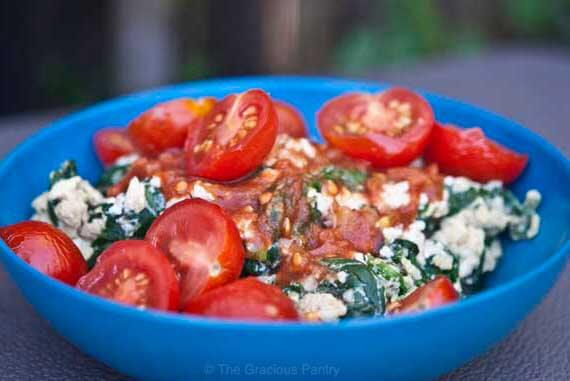 Some mornings, the easiest thing to do is scramble some eggs. But I tend to get really bored with just plain ol' eggs.
So when I do fix scrambled eggs, I like to mix them up with other stuff. Other ingredients that add a bit more flavor. Because truth be told, I'm not a huge egg fan. Never have been. But I eat them because they are a fantastic source of lean protein.
Thankfully, when I add other things to my eggs, I end up with something that I really enjoy the flavor of. So it's a win-win!
YOU MIGHT ALSO ENJOY:

Clean Eating Garlicky Spinach And Egg Scramble
(Makes 2 servings)
Ingredients:
1 whole egg
3 egg whites
6 cups fresh spinach
6 cloves garlic, chopped
1/2 teaspoon olive oil
1/4 cup chicken broth, no sugar added
2 cups cherry tomatoes
1/2 cup of your favorite clean salsa
Directions:
Saute the garlic in the olive oil over low to medium heat.
Add the spinach and chicken broth. Cook until the spinach is completely wilted.
Stir in the eggs and scramble everything together until the eggs are completely cooked.
Top with cherry tomatoes and salsa.