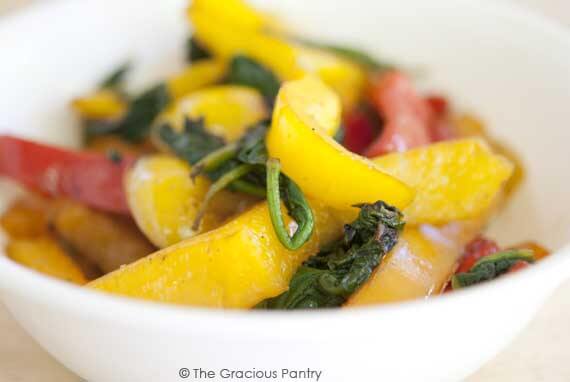 It's been a while since I posted a vegetable recipe. Why?
Because sadly, many folks don't bother even looking at my vegetable recipes. The proof is in my web site traffic data. I say it's sad, because vegetables are such an incredibly tasty and wonderful part of a clean eating and generally healthy eating plan.
I read a statistic the other day that said that vegetables in the American diet are only part of 43% of our meals. Less than half!!! Why is this the case? Veggies are so crazy yummy! You can fill up on them as much as you like and you will only be healthier for it! It's hard to say that about any other food. Yet somehow, veggies are still a last choice item for many folks.
Well, I'm here to tell you that veggies should be your FIRST choice at every meal. I think we need to get over the idea the veggies don't go with breakfast. We need to have more salads with lots of added veggies for lunch and we need to make veggies the biggest serving on our plates at dinner.
I had a doctor tell me once that she asked a patient who was trying to lose weight, to eat 2 cups of vegetables FIRST at every meal before eating anything else on her plate. Several weeks later, she said the patient came back and told her that she had indeed lost weight and was feeling really good, but that she ended up giving up on her little assignment because the veggies made her feel too full to eat much of anything else on her plate.
Umm…. Okay.
Don't get me wrong, I'm not making an understated play for becoming vegan or vegetarian (although that's a perfectly wonderful and healthy choice), I'm simply stating that her perception of vegetables being a main part of the meal was slightly askew. IT'S OKAY TO FILL UP ON VEGETABLES FOLKS!! And today I'm giving you one more way to do that.
This dish may not sound very exciting at first glance, but boy, is it bursting with flavor!
YOU MIGHT ALSO ENJOY:

Clean Eating Garlic Peppers And Spinach
Author:
Ingredients
3 medium bell peppers, red, orange and yellow
2 cups raw spinach leaves
2 tsp. garlic powder
1 tbsp. olive oil
Instructions
Saute all ingredients together in a large skillet until the peppers are cooked to your liking.
Serve as a side dish or as a main part of your meal!