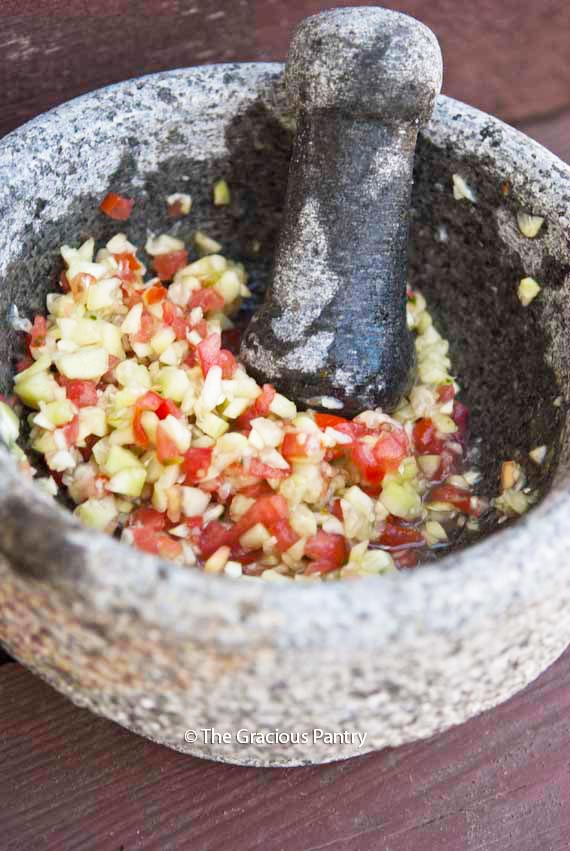 A good fresh salsa is a thing of beauty. Few other dishes can liven up the plate as well as the palate the way a good salsa can. In my mine, great salsa is the epitome of the the word "fresh".
The best part about salsa is how very versatile it can be. There are a million different recipes out there simply because there are a million different ways to make it! It's easy to adjust for every person's tastes and preferences and it brings a lively element to many dishes that might otherwise fall flat.
This particular salsa is about as basic as you can get. A simple, short and adjustable ingredient list that packs a flavorful punch. And if you don't have a mortar and pestle, feel free to put the garlic through a garlic press (or even mince it by hand!) and juice half a lime, using only as much juice as you find tasty.
See? Adjustable and delicious!!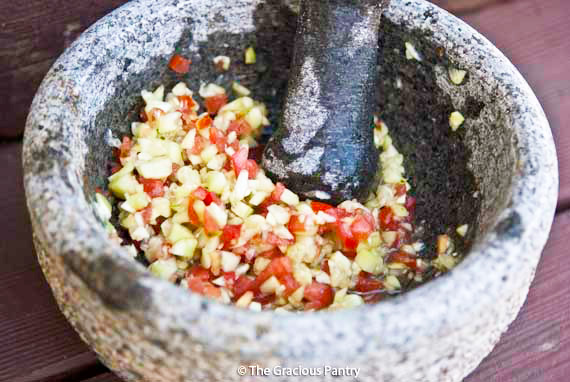 NOTE FOR LOW CARB-ERS: If you need more fat, simply add some olive oil and stir! Nothing beats the health benefits of a good, virgin olive oil enjoyed cold!
YOU MIGHT ALSO ENJOY:

Clean Eating Fresh Garlic Cucumber Salsa
Author:
Ingredients
1 medium cucumber, peeled and finely shopped
1/4 tsp. minced jalapeño pepper, or to taste (okay to omit)
1 roma tomato, chopped fine
1 clove fresh garlic, mashed into a paste (2 cloves if you don't have to talk to anybody the next day!)
1/4 fresh lime, or more to taste
Salt to taste
Instructions
Prepare the cucumber, jalapeño (if using) and tomato as listed above.
Using a mortar and pestle, mash the garlic clove into a paste
Next, mash the 1/4 lime in with the garlic until you have a more liquid/paste consistency.
Fold in the chopped ingredients and add salt to taste. Stir with a spatula. Do not mash with the pestle.
NOTE: 1/4 tsp. of raw jalapeño may be too much for some. Please start with a little and add in more as needed.