Clean Eating For Fitness Competitions
This post may contain affiliate links. Read my
Privacy Policy.
As an Amazon Associate I earn from qualifying purchases.
Ever wonder what clean eating for fitness competitions is like? I brought in a few experts to share their stories!
While I understand the concept of eating clean pretty well at this point, I've always been mystified by the eating plans that people follow just prior to a fitness competition.
There can be a HUGE difference between eating clean for daily living and eating clean to compete on a stage or in a race. So I thought I would investigate this a bit more by interviewing a few competitors. Let me introduce you.
YOU MIGHT ALSO ENJOY THIS ARTICLE ON CLEAN EATING: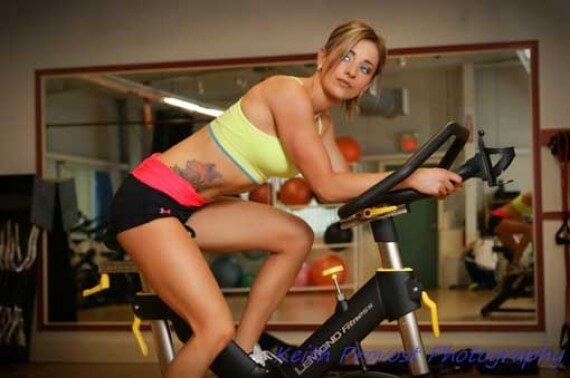 CLEAN EATING FOR FITNESS COMPETITIONS:
Becky Kastelz – She has done 2 sprint triathlons, 1 olympic triathahlon, 1 10K, and 1 half marathon and tries to do 3 events per year.
Bry Jensen – She's about to compete in her first fitness competition for the bikini division. She is a professional fitness model and will be doing 1-3 competitions this year depending on how this first competition goes. (Web site)
Anna Deke – She has done 4 bodybuilding, figure and bikini shows and is planning on doing a whopping 9 shows this year! (Facebook)
Stephanie Burke– She loves to compete in triathlons, but also competes in distance races from 5K to full marathons and also competes in bike and swim competitions. She averages 8-10 races per year.
When asked how far in advance they begin training for these events, the answers ranged between 6 weeks and 4 months, but all of these amazing women said that clean eating is a way of life. While they may not be as strict about it without a competition or race looming in the distance, it's vital to eat clean consistently, regardless of how "off-season" they are.
What changes about your diet when you first start to prepare?
Becky: "The biggest change for me is my portions.  I'm still eating the same foods, just more of them."

Bry: "Goodbye sauces and any form of sugar, including fruit! Giving up fruit was the hardest part for me; the sugar in fruit may be 100% natural, but it does not do your body any favours when you are leaning out. It felt weird to not put dates in my oatmeal, or to have to give up my post-workout apple. Additionally, I believe that if you cut me open, I would bleed hot sauce instead of blood, so having to give up all my hot sauces, even clean eating, because they contained salt was a major change for me.

The attention you find yourself paying to portion size is also a major change. I've always eyeballed my food portions when it came to meats or veggies (I measured carbs), so having to weigh out each piece of meat I cooked, every serving of oats in the morning, and even my vegetable portions with a scale and bagging them separately in the fridge made me more aware than I have ever been. I've come to the conclusion that I was probably under-eating when it came to my meat portions before." 

Anna: "Every competitor has a different meal plan depending on how their body responds to various foods, this is what works for me. First I begin focusing on my macro's and adjusting them to meet my goal, whether I need to bulk up or lean out.  I adjust my meal times and stop eating carbs after lunch, unless it's post workout.  I eliminate all red meat, no added sea salts and I begin carb cycling."

Stephanie: "When first preparing, I start incorporating nutrition that I will have in a race with me. So before and after workouts, or just before for shorter ones, I drink protein shakes that are made without sugar. I ingest a super starch, which is made to sustain energy without the highs and lows of the "sugar high." Clean eating partnered with that super starch helps my body be metabolically efficient, and perform at my best!"
What dietary changes continue to take place as the event draws closer?
Becky: "As I get closer to an event, I usually have to start eating more carbs and my between-meal-snacks get a little bigger. I also need to switch from drinking water during my workouts to a fluid-replacement-drink (FRD) that contains carbs and proteins so I can take in calories during workouts."

Bry:  "Carbs start to dwindle and variety becomes a notion that might have existed a life time ago. Currently, I am down to carbs in only one meal a day, and my vegetable choices have become more and more restrictive. Protein is always chicken or turkey, for the sheer fact that I do not eat seafood. Your fat consumption too is drastically reduced; nuts as snacks are no longer an option, and if you happen to cook with oil, find a new method! (I dont, since I have intolerances to certain oils)."

Anna:  "As I get closer to the competition I continually reduce my sodium intake and eliminate most fruit and dairy.  I begin eating more green veggies and fish, to reduce calorie intake further.  The day before the show I have a very precise meal plan, which consists of only a few ingredients and specific times to nosh."

Stephanie: "I make sure I am getting in extra protein, and I also make sure I don't over eat, so everything is weighed/measured! I am a nervous eater, and as a race draws closer, I get nervous and tend to snack."
As you can see, there are some variances  and nobody really follows the same eating plan. They do what works for their own bodies. But overall, it really is a matter of giving your body what it needs to achieve the outcome you are trying to create. Being strict is a huge component of that and I have a lot of respect for people who can do this. While I won't be competing in anything for some time to come, I like to think that it's always interesting to have some perspective on the sacrifices that people make to look the way they do. It's an eye opener for sure and for me, I'd like to think that if I ever choose to compete in anything, I now have a little more understanding of what it will need to involve.
BELOW, YOU CAN FIND EXAMPLES OF MEAL PLANS THAT EACH PERSON FOLLOWS. THESE ARE SAMPLES ONLY AND ARE NOT INTENDED TO SUGGEST THAT YOU SHOULD FOLLOW THESE EATING PLANS. PLEASE SPEAK WITH YOUR DOCTOR OR A REGISTERED DIETITIAN BEFORE TRYING THIS OR ANY EATING PLAN.
So what does clean eating for fitness competitions really look like on a daily basis? Check out what these pros eat!
Becky: On a heavy training day: Breakfast: half of a whole wheat bagel with almond butter and banana with 16oz FRD; morning workout;  AM snack: Bluberry flax muffin (I make them myself- very little flour or sugar, no butter or oil) with a handful of almonds; Lunch: mixed green salad with lots of raw veggies, lean protein and avocados (or some other healthy fat); PM snack: Apple with cheese; Dinner: Lean protein, brown rice, steamed veggies.  A cookie is usually involved here somehwhere- I've earned it!

Bry: Chicken and broccoli. Chicken and broccoli. Chicken and broccoli. Maybe some occasional turkey, but mostly chicken and broccoli! And then of course you are also going from drinking a gallon of water a day to approximately 250 mL, so the repetition in your food does not even cross your mind, You are too busy looking for water!

Anna:
Meal 1
1/2 egg yolk/1/2c egg whites topped with Pico de Gallo
1/3c oats/1/3 almond milk topped with 1 chopped dried prune
Lemon Ginger Tea

Meal 2
4oz.chx, pork, or fish
6oz broccoli or 5 spears asparagus
4oz sweet potato or brown rice

Meal 3
28g MTS Whey Protein chocolate/1/2 banana/1/2c almond milk & ice

Meal 4
Tuna w\ no sugar added relish and hot sauce

Meal 5
6oz chx or pork on a HUGE SALAD with onions, peppers tossed in salsa

Meal 6
2oz cottage cheese before bed

Throughout the day I munch on cucumbers with vinegar, green beans, pickles or salad if I get hungry.

Stephanie:
Breakfast: oatmeal made w almond milk, mix in 1 tablespoon flax seed, 1 small apple, 5 walnuts.

Snack: protein/super starch shake made w water just prior to workout

Post workout: 1/2 cup 1% cottage cheese w/ fresh fruit, or fat free plain greek yogurt w/ fresh fruit

Lunch: turkey or tuna sandwich w/ avocado, onion, and cheese, steamed carrots

Snack: Hard boiled egg w/ hummus.

Dinner: baked chicken and steamed veggie with black beans and brown rice. (turkey burgers are also a fav in my hosue)
Clean Eating For Fitness Competitions article is an original work and is copyright, © Tiffany McCauley. It may not be reproduced for any reason without written permission by the author.