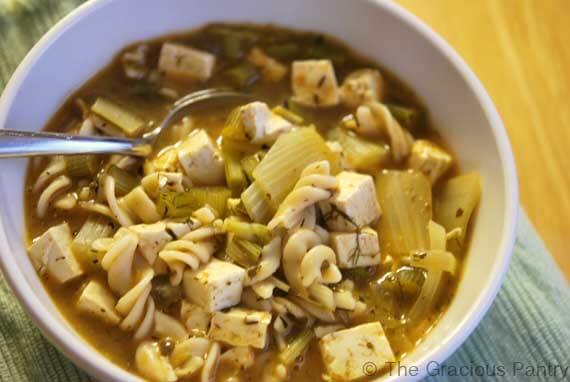 When I went to Europe at age 18, I had never had fennel before. I didn't even know what it was or what it looked like. Add to that the fact that I've never cared for the taste of licorice, and you can pretty much guess that I wasn't all that enthused when this dish came to the dinner table.
But my mind was changed quickly with the first bite. The flavor of the fennel is very mild, and is a nice addition to all the other spices that get added to the pot.
This is a great "winter day" kinda soup. It's wholesome, fills you up, and gives you that "comfort" feeling all in one bowl. I hope you'll enjoy it!
YOU MIGHT ALSO ENJOY:
Clean Eating Fennel Rotini Soup
(Makes approximately 15 cups)
Ingredients:

4 cups veggie stock
2 – 4 cups distilled water
2 teaspoons each of the following herbs: paprika, dill, thyme, pepper and caraway
2 tablespoons each of the following herbs: marjoram, garlic powder and parsley
4 medium sizes fennel bulbs with stocks
2 cups uncooked whole wheat Rotini
1 (10 ounce) package tofu (or clean eating turkey sausages)
Directions:

Start by making your broth. In a large soup pot, add your veggie stock, water and all herbs. If you don't have veggie stock, you can use all water. Just be sure you allow adequate time for the herbs to really infuse the water through boiling before proceeding.
While the broth boils: cut fennel stems into 1/4 inch slices. Toss into boiling broth (reserving the leafy greenage for later).
Tear off outer layers of fennel and discard. Cut fennel in 1/2. Then cut 1/2's into 1/4 inch slices. (be sure to cut out and discard the hard core as well). Add to boiling broth. Toss in the pasta as well, and give the soup a quick stir just to get things mixed well.
Turn heat down, but keep high enough to keep your soup simmering continuously . Cook 20 about minutes.
During the last 10 minutes of cooking, throw in your sausage or tofu to warm it up.
Chop greenage finely. Add it to the broth just as it is being taken off the heat.
Nutritional Content:
(Data is for 1 cup)
Note about data:
As you know, I use NutritionData.com for the numbers listed below. Sadly, their website doesn't always have the healthier versions of foods in their lists.
Occasionally, I run across a recipe that is very hard to figure using their website tool. So while I'll post the numbers I was given, please note that in this case, they are very likely not accurate. The pasta on their list was white, making the glycemic load higher, the sodium content of their broth was far higher than the content of the broth I used, and I'm sure the fiber is higher in my version, even if only by 1 gram or so because the fennel on their list did not include the stalks, only the fennel bulb. I purchase many products in bulk at my local health food store, so I don't always have a package I can use to enter more accurate numbers into their website calculator. I'm sorry for any inconvenience. Here is the very rough estimate:
Calories: 127
Total Fat: 2 gm
Saturated Fats: 0 gm
Trans Fats: 0 gm
Cholesterol: 0 gm
Sodium: 599 mg
Carbohydrates: 23 gm
Dietary fiber: 2 gm
Sugars: 1 gm
Protein: 6 gm
Estimated Glycemic Load: 14